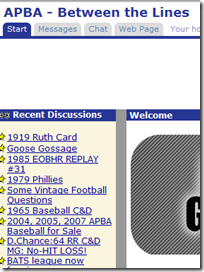 As some of you know, the APBA Company has recently withdrew official support of the APBA- Between the Lines forum hosted on the Delphi Forums site.  The popular forum needed a new moderator.  Enter Kevin Cluff. 
Kevin stepped up to the plate and assumed the responsibilities of maintaining ABTL and moderating the forums.  If my memory serves, Kevin and I have traded emails quite a few years back.  So I thought I'd send him an email and see if he'd be up for answering a few questions about his new role with ABTL.
Kevin graciously agreed and I'm glad he did.  
The APBA Blog:  If you don't mind, give us some background on Kevin Cluff. When you did you start playing APBA? What games do play? Are you in a league or do you focus on replays?
Kevin Cluff:  I'm Baseball only. I started playing APBA in 1973, at the age of 9. This occurred for the simple reason that my older brother felt that the league he was in with two other neighborhood boys needed another manager. Previously they had played All Star Baseball, and when they switched to APBA in 1972 I inherited my brothers All Star game and had been playing that for a while. After the 1973 league concluded, my brother gave me the cards (1972 cards) and my solo efforts switched from All Star Baseball to APBA.
My brother and I started playing a draft league again when we were adults, which lasted from 1985 until I moved from Southern California to Minnesota in 1994. I miss it. The best part of that league was the time I got to spend with my brother.
Now I spend most of my APBA time on a project with normalized stats and cards I create myself, though I will occasionally mix in a draft league using BBW's auto-drafting capabilities to draft the other teams in the league. My kids are ages 5, 6 and 7 and the time I have for APBA these days is limited, so I have to be creative in when and how I get to play.
TAB:  What was behind your decision to take on the moderator role of APBA Between the Lines?
KC:  The APBA game company has given me so much in my life. I spend hours on the game, and even more hours thinking about it. My understanding of the game of baseball, and the enjoyment I get out of it can be traced directly to APBA. Baseball and APBA were strong bonds between my brother and I. I feel a personal responsibility to "give back" to the APBA game company. However, to be honest, I had no intention of volunteering to become the moderator of APBA Between The Lines. I thought of a few people who would be good at it, but I that was as much thought as I gave it.
John Herson forwarded an e-mail to me, where someone had suggested my name to him, and he asked me if I was interested in doing it. I had some reservations about it. I was most concerned about the time it takes. I have never been able to read every post, for example. I'm not sure if anyone can keep up with every post, there is a lot of volume on ABTL. So, I talked to some people whose opinion I respected, to see how much time they spent on the forums they moderate.
Ultimately, the decision came down to this: I was/am capable of doing it, and the forum is important to the APBA community, and I believe, to the game company. So, I told John I would do it.
TAB:  In your introductory note on the forum when you formally took over your duties as moderator, you not only introduced yourself but re-established the rules and protocol of behavior. Most importantly, you said, "Be courteous, be respectful".
You also made mention of ABTL posts that are "unfairly critical of or hostile to APBA, APBA's products, APBA's customers, APBA's ownership or APBA's competitors will be removed." but insist "open discussion on APBA products is encouraged, even if they are negative". In your opinion, what is the key to the balance between a free and open forum but also a forum that is informational and useful for everyone?
KC:  Oh, I suppose there are a few keys. First, those who frequent the forum need to be interested, invested, knowledgeable and have a desire to be helpful. APBA Between The Lines has always had participants who fit this criteria.
In order for the forum to work for the largest majority of APBA fans, it has to be a safe environment. That may seem like a strange requirement for an online community, but it is paramount. It has to be ok to speak one's mind, but the ideas expressed have to be on point. That is to say, ideas are discussed, not personalities. Someone can say an idea is unworkable while still respecting the one who brought the idea forward. The closer to that ideal we can get, the more information will be presented, new ideas, old ideas, twists on old ideas, etc.
At the same time, no one should post an idea or thought on a public forum if they are so sensitive to having their post criticized that every negative comment is viewed as a personal attack. It can be easy to take negative posts personally, of course.
Finally, there are some hot topics that will just naturally cause hurt feelings. These are, usually, beyond the scope of the forum. Topics like politics, and religion almost always result in hurt feelings and personal attacks. There are forums designed for this sort of thing, fortunately, so there are places to go for such discourse.
TAB:  Personally, I find the ABTL forum a good starting point for people new to APBA. An APBA fan can ask any kind of question and usually get a good answer. The Classifieds section is also a good feature too. In your opinion, what are the strengths of APBA Between the Lines?
KC:  The strength of APBA Between The Lines is the people. The APBA Community is well represented. There is a wealth of knowledge about APBA and the games on the forum every day. I can't remember the last time a question was asked that didn't get a knowledgeable response. If you want to toss around an idea you've been thinking about, or want to know if a card or rating is in error, ABTL is a great place to go. A place where your idea or question will not only be well received but you will get insightful responses, often from the brightest minds in the hobby. The depth and quality of the people that one has access to via ABTL is tremendous.
TAB:  Finally, did APBA CEO John Herson impart any advice or suggestions as he handed over the reins to you as moderator?
KC:  I asked him what his expectations were, and he said he thought my own expectations would exceed his, so no, he really didn't offer any suggestions.
Prior to my "introductory post" where I talked about the rules of the forum, I searched through all of Marc Rinaldi 's posts where he discussed the rules and/or admonished people for taking things too far. That is how I came up with the content of my post. The idea was that this would be a seamless change, that no one would notice a difference in the rules. I specifically didn't want to represent a change. It is not my desire to leave my imprint on the forum, or in any way to make it about me. I want ABTL to continue to be what it was always meant to be, about APBA and those who love the APBA games. The forum makes no sense, to me, otherwise.
---
First of all, thanks to Kevin for doing the forthright interview. 
More importantly, thanks also for his help in keeping ABTL alive.  If what Kevin says above is any indication, I personally think the forum is in pretty good hands.