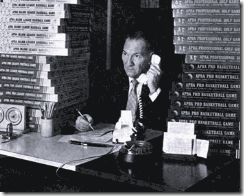 Paul Dylan from One for Five brings up a poignant matter.  It was twenty years ago today when Dick Seitz, founder of the APBA Game Company, passed on.  Maybe it's me being old but it seems so much longer ago. 
Some of us hard core APBA fans probably give Dick Seitz a larger than life image because we though we didn't know him personally, we are most intimately aware of his legacy. Maybe that's not fair to Seitz the man but that's only natural. His game which has been around officially since 1951, defined tabletop sports.
Seitz is revered by many long time APBA fans similar to how we Americans revere our "Founding Fathers".  Indeed, Dick Seitz was the founding father of APBA.  He grew the business before the days of marketing, focus groups and modern technology.  He did things like using his bar drinking buddy as a t-shirt model and marketed the game the way that he probably would want it marketed to him (YOU be the Manager!). 
For those interested in more information on Dick Seitz, you can find a good bio of him on the APBA website.