by Mike Estep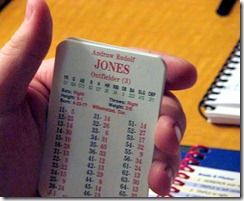 I guess the older I get, the more I love my APBA cards and game. Now that has got me to wondering why. So I am going to lay out some thoughts after some deep analysis. Please feel free to comment and add your own.
One thing I have always loved about the APBA cards is that they really do seem to have a personality. I mean we can all just look at a card and say to ourselves "hmmmm… an F, good power numbers, I like that 11 and that 14*…" and if they have a good glove on top of that, well that is just gravy. How about pitching? Do you like that BXYZ? I would take him any day! How about that D pitcher that you pulled for in real life and loved him anyway…so you learn to love his APBA card too! Especially rewarding to see that guy get a quality start huh?…
What about a particular season? Do you like 1968? Those who do not play APBA or any other tabletop baseball game can never experience that glorious year again… except in their mind. We get to re-live all that glorious season if we want to! Plus, we are manager, statistician, scheduler, Commissioner… groundskeeper (consists of laying out my boards on the table and hey my field is always green now since I laminated my boards…..no more wear and tear). My point is, what other game lets us go back in history and re-live great moments? Be a part of them? Amazing!
I also love the feel and look of the cards. I admit I get a little smile on my face when I roll those dice… anticipating that 66… hearing them clank in that little plastic yellow container… c'mon now you can hear that sound in your head right?  And roll those babies across the table… look at that card… search the board… and…bingo!…  the result is there… just like the crack of a bat at a real game. I also like the interaction with the boards and is why I guess I am a cards and dice man.
Here is the best part. Many of my friends love golf and I like golf also. I am terrible but that is beside the point. Now by the time I pay my fee for 18 holes, get a golf cart, buy the golf balls, etc… well you get the picture… lots of money needed! With my APBA hobby once I buy the game, and purchase the cards. There is no fee for me to sit down and play a game or two. No green fees, no cart fees… once I pay my money for the game components it is free for me to sit and play. I can go back in time, to a year of my choosing… and see my boyhood idols in their prime again with the sun shining on the beautiful green field! Transporting myself away from my troubles.Peanuts! Get your peanuts here!
Roll a 66 and smile!