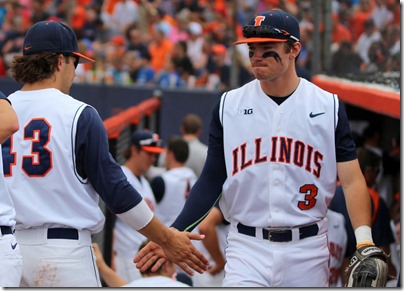 That's Casey Fletcher son of Darrin Fletcher… he may get to the majors like his dad
A couple weeks ago, my buddy Doug Schuyler messaged me, "Where ya been?".  Admittedly, my posting on The APBA Blog has been a little sporadic this spring.  I'd like to profusely thank Bob Gordon for stepping in and filling in the gap a little with his 1979 Postseason write-ups. 
Spring is always a busy time for me.  It's college baseball time.  Some of you know that other than APBA baseball, my big love is following the University of Illinois baseball team.  I've been going to games since 2005 and even blog about their success, posting photos I take at their games.  Since I started following the Illinois baseball team, they've had their ups (Big Ten championships in 2005 and 2011) and downs for the most part they've been a mostly solid team. 
Getting the shot of a grand slam is like rolling a 66
Going into the 2015 season, I knew they were going to be a contending team but I was not prepared for the success the team was going to experience.  It would take a few pages to list everything the team has accomplished so far in 2015.  Suffice to say that at this point, they:
are ranked #2 in the nation
are on a 27-game winning streak (longest in the nation)
have come back in 23 of 46 of their wins
have the Big Ten Player of the Year, Pitcher of the Year and Coach of the Year
have won the 2015 Big Ten Championship
They currently are in Minneapolis' Target Field playing in the Big Ten Tournament having already won their first game.  Chances are, the NCAA Regional will be held here in Champaign at Illinois Field. 
So long story short, I have been quite busy.  Between attending every home game on top of normal work and family duties, it's left me quite spread out.  Some days I'll leave home at 7:30am and not get home till midnight… and I love it!!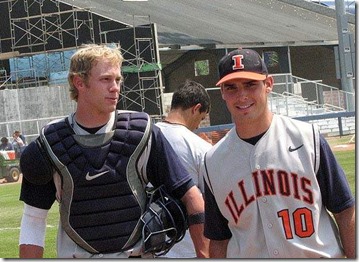 An APBA connection:  I watched Tanner Roark (right) pitch back in 2007.  Now he's on my APBA team.
Some people will ask me if I follow college sports and I'll tell them yes.  "So do you follow football, basketball or both?"  Honestly, those familiar with Illini sports know that our spring sports have had a banner year this spring.  Aside from baseball team, Men's Golf, Men's Track, Men's Tennis have all had incredible successes this year.  The Football and Basketball programs have room for improvement.  That's not a dig.  It's a statement of fact. 
Those of you who have a college, minor league or even high school baseball team in your area, I encourage you to take in a game or two.  There's so much we can learn about the team aspect of the game of baseball by watching it up close.  APBA player Beau Lofgren who coaches high school baseball in Minnesota can attest to that. 
Thanks again to Bob and the others who have stepped in while I follow my other passion.  The Illini have hopes to make it far this year.  Is Omaha out of the question?  I'm hoping not!!