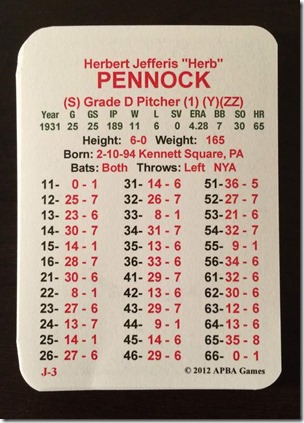 What's this?  A weird season?  Well, Rodney Woodward and I were trading emails after he submitted Red Ruffing for last week's WCW.  He informed me of a very strange anomaly that occurred with the 1931 set that was published in 2012.  
It seems that the pitcher's stats on the cards particularly the HR, K and BB while correct, are offset by a column.  For example, if you check out Herb Pennock's HR stats above, you might think something is amiss. 
Here's Rodney's take on it…
I've been on kind of a "who's the greatest team ever"  kick the last few weeks and I've started a 1927 Yankee replay.

So, that led me to looking at some of the other Yankee teams around that time and I came to this. At first glance, I thought "7 walks in 189 innings, wow". He deserves a ZZZ, then as I looked closer, I couldn't figure out how he was given a "Y" with only 30 Ks?  Then I saw the 65 HRs and looked around my office to see who was punking me.

That led me to checking other pitcher's cards and sure enough, I discovered that APBA misprinted every single pitching card I have for this set. Pennock's line should read: 7 HR, 30 BB and 65 K.

So I think WCW should be ALL of the pitchers cards from 1931. I'm curious if anyone else has found this error also?
Rodney goes on…
HRs, Ks, and BBs are affected.  The hitter's stats seemed normal and in place.  I'm guessing the printing placard for pitcher's cards was offset by a column.  I'm not quite sure how they print the cards but seeing as it was every pitcher, I'm guessing there was a misalignment during printing.  It's the only time I've ever seen something like that as well.
A couple more examples:
I agree with Rodney.  It was a simple issue of a column offset by one.  From what I can tell, the actual APBA result numbers are not incorrect and this error will not affect the play of the game. 
So have others with the 1931 set published in 2012 have the same misprints?  I'm just wondering if the problem was eventually rectified. 
thanks, Rodney!