Weird Card Wednesday?  Yeah, don't get used to it. It's probably a one time thing (unless y'all help out).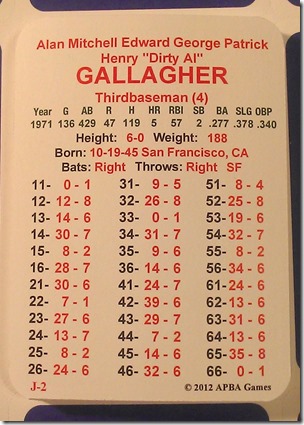 When two people email me about an APBA card in two days, I guess it's worthy of posting about.  Both Steve Ryan and Jerry Hill contacted me asking me if I've seen Giant thirdbaseman Alan Gallagher's recently published cards.  The one above published in 2012, is for his 1971 season. 
Nothing too strange about his numbers… but the names!  Gallagher's parents didn't know when to stop when it came to naming him.  As someone with more than one middle name myself, I can empathize with Alan (though I only had two).   
His full name is: Alan Mitchell Edward George Patrick Henry Gallagher
The formatting is such that it takes two rows to display it.  I actually remember this multi-named player's card from the 1970 original set.  That card did not have the nickname "Dirty Al" on it though so that was new to me.  Gallagher's entry in Baseball Reference verifies that was indeed his nickname.  I'm hoping it's just because he got his uniform messy from fielding those plays at the hot corner. 
thanks, Jerry and Steve!!