It's been a while since I've posted something from Scott Veatch's Vault.  Here's one from 1985.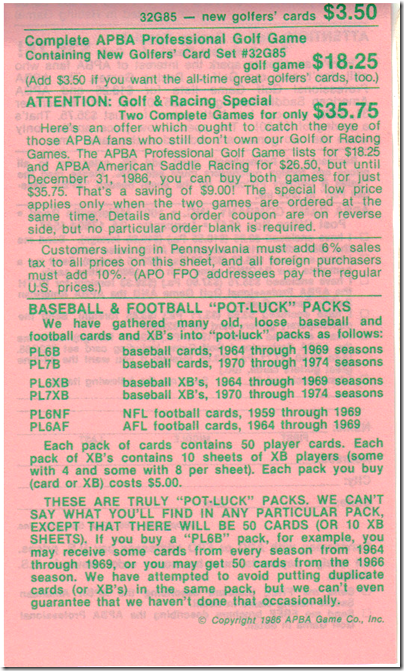 This small flyer encompasses many of APBA's games.  It includes offers for the Golf game as well as the golf card set.  If you want to buy the Golf game and Saddle Racing together, both can be had in 1985 for $35.75.  It's interesting to note that separately, the Saddle Racing listed for $26.50 and the Golf Game was just $18.25.
Most unique in this 1985 flyer though are the "Pot-luck Packs".  APBA must have swept the floor and combined baseball and football cards into these packs.  Each set included 50 loose cards (some regular and some XB) from the 60s and 70s.  In APBA's words, "These are truly "Pot-luck" Packs.  We can't tell you what you'll find in any particular pack".  Though they tried, APBA didn't even guarantee there weren't duplicates.
One Pot-luck pack of regular cards cost $5.00 for 50 cards back in 1985.  A pack of XB cards included 10 sheets, some with 10 per sheet, some with 8.
Thanks Scott!  You can see more of Scott's APBA-related brochures and literature that he's collected through the years at Scott Veatch's Vault here at The APBA Blog.