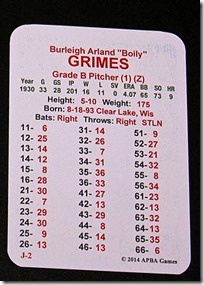 A couple days ago, I did a preview of the starting lineup for my team for this weekend's Chicagoland Summer Fantasy World Series, the 1930 Cardinals (plus 1998 Mark McGwire). 
Some commented that with all the hitting that the Cardinals had, I would have been better off picking a pitcher for my fantasy player.  Looking over St. Louis' rotation, they may be right.  I'm just hoping to score more runs than the other guy.  In either case, I'll be going out with a blaze of glory. 
Those who frequent team pages like my 1930 Cardinals on Baseball-Reference.com may have noticed that they display portrait photos of team members at the top in order of WAR.  Hall of Famer Frankie Frisch is listed first.  No surprise there.  Can you guess who is second?  Chick Hafey?  Jim Bottomley?  George Watkins?
Nope.  Believe it or not, it's 36-year old hurler Burleigh Grimes who is my lone B starter.  For the year, Grimes went 16-11 with a 4.07 ERA but that was with two teams.  With the Cardinals, he went 13-6 and kept his ERA to a 3.01 mark which was pretty amazing for the 1930 campaign.  As a BZ, "Boily" will provide me with one solid pitching outing. 
Tournament rules specify a 4-man rotation and alas, I can't count on a rainout.  My rotation for the 1930 Cardinals:
Burleigh Grimes  BZ
"Wild Bill" Hallahan CX
Sylvester Johnson CYZ
Jesse "Pop" Haines CZ
Hmm, if only I had chosen 1968 Bob Gibson as my fantasy player.  No regrets!! 
Unfortunately, the 1930 Cardinals' bullpen isn't much better.  Having a lot of A*s on your team in a tournament format isn't as advantageous as it is in a full season.  However, the Cardinals could do a little better when facing the tough teams of the CWS.  Hi Bell who is a C (B*)Z is the only B* or better on the whole squad.  He will be bolstered by Flint Rhem (CZ), and Hal Lindsey (D (C*) Z along with a few Ds who hopefully not see the light of day. 
Bench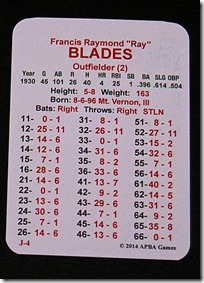 The 1930 Cardinals have a pretty amazing bench.  Thirdbaseman Andy High (44-7, 3B-4) will be ready in case I do some creative managing.  I have plenty of firstbasemen but Ernie Orsatti can play the outfield too.  He's rated 1B-2, OF-2.  Even better, he's got power numbers 0-0-0-0 and a 55-7. 
If Orsatti doesn't fit the bill, check out Ray Blades.  An OF-2, Blades also has 0-0-0-0 power numbers with a very nice second column (31-1!).  Not only that, he batted .396 in 1930 and has a 25-7. 
Of course, there is the elephant in the room by the name of George Puccinelli.  He is prototypical Monster Card (his card was the second one I actually did for the Monster Monday column).  He is a J-4 so he can't start but he can come in and pinch hit.  There is already talk of whether he will make an appearance.  If you see his card, you'll know why all the hullabaloo. 
Will he?  I am pretty sure "the Count" will see some action somehow.  Will he pinch hit in the bottom of the ninth with the game on line?  No.  He may see some time in field or perhaps pinch hit in a laugher of a game. 
All this said, team's benches play a smaller part in tournaments like this compared to a full season.  When you also consider that this tournament uses the designated hitter, there will certainly be less pinch hitting opportunities.  Jimmie Wilson (C-8) will see some action as a defensive replacement.  Orsatti is fast so he could pinch run for slow McGwire in a key spot. 
The Chicagoland Summerland Fantasy World Series is only three days away.  Some out of town folks like Howie Mooney and Dan Velderrain are already in the Chicago area and enjoying everything that the town has to offer.  I'm really looking forward to seeing everyone because despite all of this strategy talk, I could go winless and still have blast. 
Thanks to Doug Schuyler for putting this all together!  I'll see everyone this weekend!