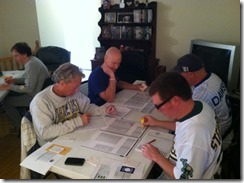 If you're interested in participating in an APBA Tournament, next April is going to be your month. 
Not only is the Prairieland APBA Baseball Tournament shaping up to be a big event in Urbana, Illinois on April 16th, 2016 (we still have openings!) but now Jim Fraasch has announced the date of the fifth rendition of the Neil Ess Memorial Twin Cities APBA Baseball Tournament in the Minneapolis-St. Paul area.  Mark your calendar for April 2, 2016 if you're interested in the TCABT-V.   
Jim has all the details up on Jim's APBA Barn if you want to find out more. 
His announcement comes on the heels of my APBA Fan Profile that I did of Jim Fraasch a couple of weeks ago.  If you want to find out more about Jim, just read all about him.