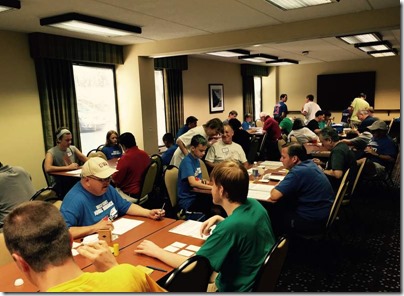 Congratulations to Nate Shields who piloted the 1913 Athletics to a championship at the 3rd annual Robert Henry Memorial Tournament.  The tournament featured sixteen members of the Bridesburg Boys and Girls Club as well as twenty-two "grown-ups" (but kids at heart). 
Brian Cavanaugh, who has incorporated APBA baseball with his work at the BBGC for several years, included a bit of history of the tournament:
"The Robert Henry Memorial APBA Tournament is a one day tournament starring members of the Bridesburg APBA League. The tournament started from a conversation between John Cochrane and Brian Cavanaugh during a game at the final Lancaster convention/tournament during the summer 2012. Since then, the tournament has taken on a life of its own and a day that the members of the Bridesburg APBA league look forward to."
You can see the full results of the tournament here.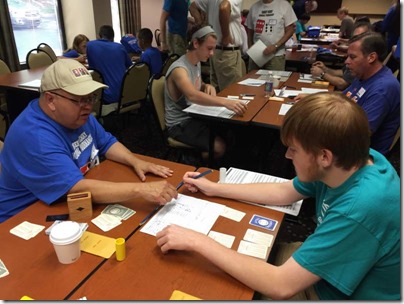 Every tournament has their style for naming divisions… baseball players, broadcasters, local luminaries.  Not only was the Robert Henry APBA Tournament named for an APBA superstar (whose column in the APBA Journal I read religiously) but the divisions were also named for APBA Hall of Famers.  Divisions were named after J. Richard Seitz, Veryl Lincoln, Scott Lehotsky, Clifford Van Beek and Bob Levy.  Nice touch!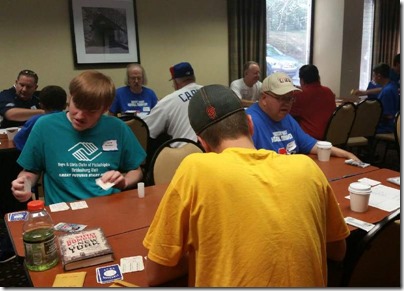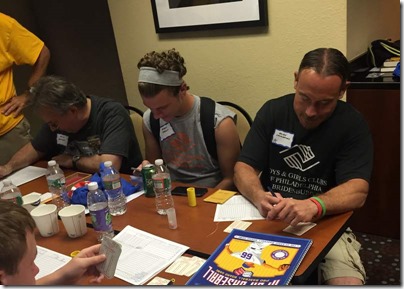 Congrats again to Nate for his fine performance.  I see he scored 22 runs in the semi-final!  As for Brian (above right), I'll bet he'll be looking for revenge after his 0-7 performance. 
Seriously, thanks to Brian, the Bridesburg Boys & Girls Club  and everyone else who made this happen.  In the past several years, Bridesburg is one of the best stories to come out of the APBA community.  While most tournaments emphasize that it isn't all about winning and losing, this takes it to a different level.  Keep it up!