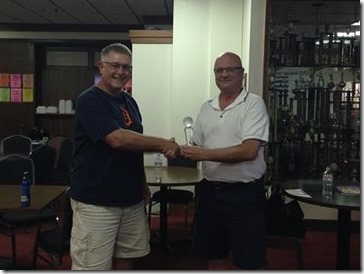 The Toledo Glass City APBA Baseball Tournament is in the books!  On Saturday after the dust settled, Dick Butler and his 1969 Baltimore Orioles were left standing out of the 22 teams that participated.
I've gotten to know Dick pretty well in the last couple years and I can say that he one of the nicest guys in APBA.  Well, done sir!  Dick beat John Roels and his 1927 New York Yankees in the championship game by a close 3-1 score.  Dick tells me that even shortstop Mark Belanger blasted a homer in the game.
Organizer Ron Emch does a great job of documenting these tournaments in video format.  In fact, his YouTube channel has plenty of APBA related videos to watch.
Here were the Glass City tournament highlights of the day…
Ron even recorded the entire championship game between Dick and John.  For those of you who don't know John Roels, he has quite a fun, quirky sense of humor.  It plays out during the video.
Congratulations to Dick Butler!  I'm sure Ron is already planning Glass City III.  He's been doing a great job with this tourney.  Keep up the great work, Ron!!