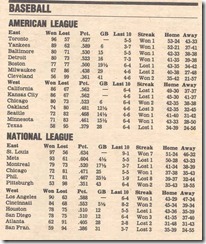 The most important statistic you can keep in your replay is the daily standings.
Maintaining daily standings sound easy. It is surprising, however, how easily one can transpose a number or flip-flop a win or a loss. Once an error occurs, it will continue replicate itself in your daily standings until you either locate and correct the error or, worse, fail to notice the error and wind up with inaccurate standings.
Believe me, from personal experience, when you record an error in your daily standings, count on spending a frustrating hour or two or so poring through your box scores and records to see where the error occurred.
So how do you keep the daily standings and how do you avoid (or correct) any mistakes?
Some suggestions:
Record the daily standings in a separate notebook on a day-by-day basis.
As you play a series, update the daily standings immediately after each game.
At the end of each "month" of your replay, compare the cumulative pitcher's won-lost record with the won-lost record in your daily standings. Also, compare the number of starts for each pitcher with the number of games each team has played. The number of pitcher starts must equal the number of games each team has played.
After each series, record the win and loss in a team-vs-team box, which gives you a back-up system to ensure accuracy in the won-lost standings.
Next: A post-game protocol for recording replay information