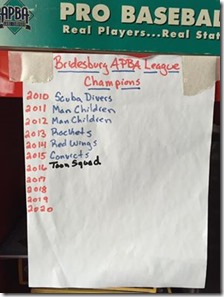 The info below comes from Brian Cavanaugh.  It's hard to believe that the Bridesburg APBA League has been around for six years now.  It's one of the best APBA stories around.
What started six years ago as a simple way to keep the kids in his Boys and Girls Club busy with something stimulating and interactive has grown into a six year project.  The Bridesburg group is now being invited to APBA tournaments thanks in part to John Cochrane.  Finally, I read a poignant post on Facebook that one of Brian's charges (one who I have read about often in Brian's league updates) is now entering college. 
Wow.
Brian says:
"The 6th season of the Bridesburg APBA League came to an end today with a flurry of games as the post season tournament is set to begin. A number of rookies fielded teams this summer, which is a good sign for the future as the league has gone through a bit of a face lift the past few seasons as many players are out growing their time at the club. Even still, the league remains strong. The final standings:

Schmidt Division

Senators … 23-12

Vermont St… 21-15

A's … 17 – 17

Rat Pack … 9-13

Horses … 2-13

Rose Division

Toon Squad … 22-7

Red Wings … 22-17

Rockets … 17-6

Hot Spurs … 4-9

Warriors … 1-9

Carlton Division

Eagles … 23-6

Scuba Divers … 5-10

66'ers… 5-11

Angels … 1-5

Money Makers … 0-9

 

Ashburn Division

Convicts … 14-9

Blue Devils …9-6

Under Dogs … 6-6

Spiders … 4-14

*due to attendance issues (vacations, days absent), not all teams were able to reach 35 games.

Playoff Rules

Top 8 teams qualify with division winners being the top 4 seeds. Tournament is win or go home, single elimination.

Playoff Bracket

1. Eagles vs 8. A's

2. Senators vs 7. Rockets

3. Toon Squad vs 6. Vermont St.

4. Convicts vs 5. Red Wings

Playoff results will be posted at the conclusion of the playoff games (all playoff games will be played 8/18/16)."
The photo above gives it away.  Bob Hunter's Toon Squad won it all over Gary Brown's Red Wings.  Congrats to Bob! 
Keep up the great work, Brian!!