When reader Ed sent me an email with a subject line "What does APBA stand for", I expected a diatribe on the APBA Game Company's standing in the tabletop sports community. 
No, that wasn't the case..
"I have acquired some APBA football cards, what does APBA stand for?? Thanks for the assist."
…he simply wanted to know what the word APBA stands for. 
It's a question that gets asked by readers on occasion especially those new to the game.  The official word from the Company is that it doesn't stand for anything and word stands on its own.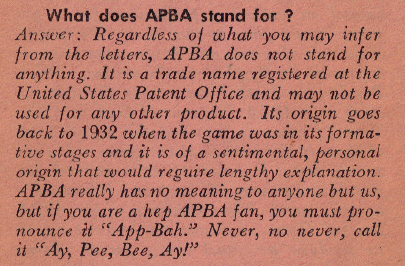 This shot of an APBA 1964 brochure reveals that there may have been something behind the name. Something "of a sentimental, personal nature that would require lengthy explanation".  Of course, this was back in 1932 so whatever it was probably went to the grave with APBA founder Dick Seitz. 
And of course, NEVER call it Ay, Pee, Bee, Ay! 
Thanks for the good question, Ed.