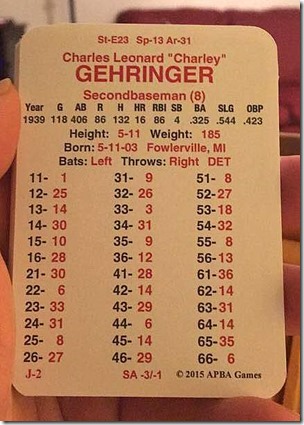 In the days when APBA put the 12 on a different number each year, my friend Don Smith would joke about the possibility of putting it at 66.  "I never roll that number", he would say. 
This 1939 Charley Gehringer card published in 2015 and posted on Facebook by Ken Schulz has been getting some attention.  It's isn't quite the same thing as Don's dilemma but you get the drift.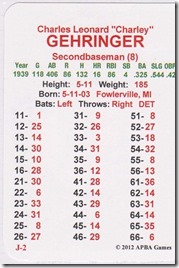 Some APBA fans commenting on this card are wondering if is this the only APBA card that doesn't have the best result number at 66.  Gehringer has a 66-6 yet has an 11-1.  Not only is the 11-1 better than the ultimate roll of 66 but so is the 33-3. 
Possibly the strangest thing about this is that the 2012 print of this same card (seen left) has same arrangement.  Tom Goodell submitted the 2012 version of card a couple years ago for Weird Card Wednesday and it has the same 6-1-3-6 power number combination.   
Possibly this is a correct card technically but the power numbers at 11, 33 and 66 should be interchanged to a more palatable 66-1, 11-3, and 33-6.   
Still a fun card but definitely an odd one.