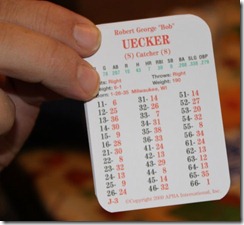 With the holidays finished, I'm now beginning to think of my 1966 replay.  Rather than rushing in and rolling the dice, I'm thinking this through.  In order to have a successful replay, what does an APBA fan need to think about before "opening day"?
Well, there are plenty of logistical things to be concerned about… schedules, stat keeping methods etc. Before I even attempt to address those, though, I might want to think about what kind of replay I want to have.
A replay is a replay. right?  Well, it depends.  There are a few questions I'll need to ask myself that will most likely influence how I prepare for and do the replay.  Call it a "constitution" for the replay.
Accuracy vs. Realism
One of the first questions I'll need to address when preparing for a replay is 'am I shooting for accuracy or realism?'.  It's a fine line but the distinction is there.  Do I want to see how close I get to the real life stats and standings results from 1966??  Or do I want to replay the season and find out "what could have happened" given the same situation?  The answer to that question will affect things like pitching rotations, lineups, player usage, how I handle injuries, and a host of other issues.
There's no right answer, of course.  It's a matter of preference.  For that matter, it's not black and white either.  You may want something in between.   As long as you have an idea what you prefer.
An Issue of Accuracy
Before going through the long arduous process of a season replay, you may want to decide how accurate you want that replay to be.  Some things I will consider for my 1966 replay:
will I make the in-season transactions as they happened in real life?
will I use the same pitching rotations?
will I even use the same lineups?
Again, there's no right answer here.  I will say this… keeping track of in-season transactions is not as easy as it probably seems and it plays havoc with stat keeping.  The idea of just going with the APBA stock teams is incredibly appealing.  As with anything in life though, you get out of your replay project what you put into it.  I'm sure the perfectionist in me will win out.
---
Soon, I'll write more and talk more about more tangible things that are necessary before I start a replay.  I welcome comments from anyone out there who have done replays and have thoughts on what thought processes you went through before you got started.