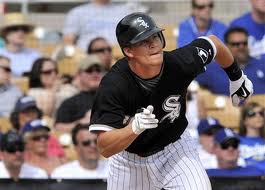 by Teddy Ballgame
The Chicago Champions played games forty through sixty-three in Champaign.  That left a six game SKYPE series against the Illowa APBA League reigning Champs, the Green Rock Bombers.  With Papa Bunch's work schedule and my funn schedule, our series was setup to play Friday June 29th.
Of course I knew, no matter when the series would be played over SKYPE that it would be a crazy busy day.  My prediction came true, my brother & his family came by, just as we were about to drop the dice, the family fleeing the Colorado wildfires stopped over for some Ramen noodles & baked beans, then my Chicago cop cousin & his family bounded in with their dog, there were major storms knocking out DSL in Green Rock, and not to mention it was nearly 90 degrees with high humidity.  It was a miracle the series only lasted four hours.
After five games, the series stood at 4-1 Champions, with Matt Cain on the hill for Chicago, opposed by Green Rock's Alexi Ogando.  After six innings we were up by one unearned run, heading into the top of the 7th.  Even though Raisin had allowed only two singles through six and was about to advance to an A, there was trepidation, and I thought Jose Valverde should be called on to pitch the 7th.  That fear appeared to be unfounded when Cain retired Josh Hamilton & J.J. Hardy to open the frame.  Then it happened, Yadier Molina singled on a 9 (an out vs an A), followed by a Logan Morrison walk, and then Jayson Nix reached on a comebacker to the mound to fill the bases.  I knew what was coming.  I could sense the dread in the air.  Adam Dunn was sent up to bat for Ogando, Sergio Romo was called on to replace Cain, and Desmond Jennings grabbed a bat to hit for Dunn.  After ball 2, Jennings ripped a 3-RBI triple to left, 3-1 Bombers.  We manufactured two runs in the bottom of the 8th to knot the game at three.  However the karma had changed, the Bombers scored five in the top of the 9th and although we scored two in the bottom of the 9th, it wasn't enough, and we had to settle for a 4-2 series win.  A sleepless night followed as I was awakened with thoughts of what might have been.
Gordon Beckham was the hitting star, going seven for 21 from the eighth hole.  Gordon launched three homers & drove in seven in the six game series.