Today, the APBA Company has issued a patch for APBA Baseball 5.75.  This patch takes care of various issues in League Manager, Advanced Draft, the Migration Tool as well as the Baseball game itself. 
You can see the entire list of fixes that the patch addresses in this pdf. 
I just installed the patch on top of my APBA Baseball 5.75 installation with no problem.  The only non-standard step during the process was when I encountered this dialog box which inquired about changing the Field Effects Files: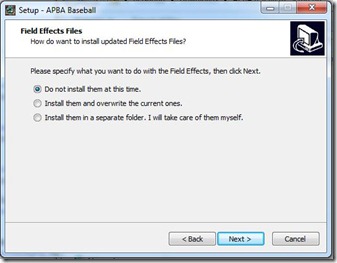 It's a personal choice, I suppose.  If you've modded your Field Effects Files or like them the way they are, don't overwrite them.  Otherwise, the patch install was painless.  Maybe more experienced BBW player could chime in with their theories.
As I said, the patch fixes a host of issues.  Among them:
Incorrect AIM Pitcher Durability and Recovery Settings (we've already heard about this problem)
Shortcut keys to close windows issue and other various keyboard shortcut issues
Lineup merging issues
Font problem in StatMaster
Many issues in the Migration Tool (those having problems should definitely read APBA's pdf… there's some detailed info there)
The patch is a free download and can be downloaded from the APBA Company website.
Now if only they could make a patch available for my dice…