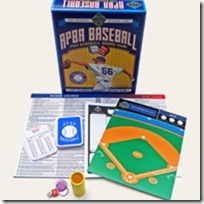 A couple of new developments on the Alpharetta homefront…
One, the 2012 APBA Baseball cards are shipping!.  The APBA Company posted a short announcement today to that effect.  Along with the announcement is a gentle plea to hold off on the calls to the Company asking about the status of your order until January 15th (or to fast-track your order).  That seems fair.  It's a busy time of year for a small office.  Let's not beleaguer them with calls like that.
Also, APBA has announced that they are "rebuilding its board games with larger charts, larger playing fields and better packaging."  Here is their announcement about it.  Note that no sport is specified so I'm making the assumption that this change is across the board.
My first thoughts after reading this were, "Change is hard" and "I hate it already".  Of course, I haven't even seen them yet.  That's probably not fair.
I probably didn't care for the current set of baseball boards at first but have grown to like them.  I admit, I never did like the multi-colored "color commentary" boards that came out 10-12 years ago and maybe that's why I embraced the current booklet boards that went back to the no-frills results.  We can embellish our own commentary, thank you.
As part of this process, APBA is also looking to change their current tagline "Satisfy your APBAtite" and wants your input.  They are "looking for a message that extols strategy games over fantasy games but is short and sweet; for example, real baseball, not fantasy baseball."
If you have a good suggestion for APBA, email them and let them know.  Heck, go ahead and leave it in the comment section too.