by Mike Estep
Overview
Before I expound more upon my quest of beginning a season replay, allow me to explain and highlight the virtues and advantages of being involved in tournament play. I have been virtually a tournament APBA player since 1981 when I first got this great game at the age of 18. Even though I have not completed a full season replay in all those years, tournaments and the occasional single team replay have provided countless joys and exciting thrills during my APBA career. Over the years , I have experimented with various ways in conducting my tournaments and I will explain to you what has worked for me and my enjoyment.
Initial Setup
Once you have selected your teams for your tournament, the next issue is how do you determine your matchups?  I have done it where I have seeded the teams, where I had the number one team with the best record to play the number eight team in terms of record (assuming I have eight teams in the tournament) number 2 plays number 7 and so forth. I have also done it (especially in OFAS tournaments) where I have simply drawn teams at random for the matchups, although I do like to keep American League and National Leagues separate until the American League and National League champions are determined.  Next, you need to determine if all the rounds of the tournament will be best of 7, or if the earlier rounds will be best 3 of 5 or even best 2 of 3. I have run the gamut on how I have set my tournaments up. I have done tournaments where the first rounds were best 2 of 3, the semi finals were best 3 of 5 and the finals were best 4 of 7. By doing it this way, it adds some spice to the tournament in that the underdog has more of a chance in a shorter tournament of knocking off the favored teams. It also adds some drama early to the tournament. I have also done it where all of the rounds were best 4 of 7. In this scenario, the stronger teams with the better pitching obviously have an edge, but maybe they should. I have found that I have learned to like this setup better in my tournament play. If a Cinderella team is in the tournament, they have to earn their way and play well not just for 2 of 3 games, but they must defeat a stronger foe in a best 4 of 7. This obviously depends upon the personal attitude and personal taste of the replayer.
Pitching Setups
In order to not penalize the stronger pitching teams, I make all teams in the tournament go with at least a 4 man pitching rotation. We all know that back in the day pitchers like Bob Gibson could pitch games 1, 4 and 7 of a 7 game series. It makes that particular team Gibson starts those 3 games with a bit artificially stronger in my opinion since there is no way Gibson could have started games at that pace during the course of a full season. Also, teams like the 1976 Reds would be made a tad weaker by requiring a 4 man rotation and would put more pressure on their offense to score runs than if they could use a 3 man rotation. Teams like the Braves of the 90's or the Dodgers of the 70's would be penalized for their strength. Plus it artificially inflates the talent of teams without good pitching. The Phillies of the late 70's/early 80's come to mind. They do not have their strength reduced (powerful lineups) AND have their starting pitching problems minimized by letting Steve Carlton pitch more games. So you have just made them stronger! I just feel that for me personally, by requiring a 4 man rotation for all teams in the tournament it does not weaken those teams that had depth in their pitching during a regular season, nor does it unrealistically inflate a team that had weaker pitching during the course of a season. You may disagree of course and that is ok as you must make the tournament fit your personal tastes. I also like to use the Dick Moore Pitching Charts that basically apply the Master Game pitching ratings to the basic game.
Ambiance
Ok, let's say you are ready to go with that 1949 tournament. You are going to set up eight team brackets in each league to determine a National League and an American League champion. Those two will obviously meet in the final round which I call the "World Series". Now to get myself ready mentally, I may start a month before the tournament and read a book like Summer of '49 by David Halberstam. I may also look up some 1949 news articles on the internet and also maybe listen to some Frank Sinatra, Tommy Dorsey and Glen Miller music just to get myself "back" to 1949. I try to make myself go back in time as much as possible so that my mood while playing the tournament is as much into 1949 as it can be. I also like setting up a thread in the APBA BETWEEN THE LINES FORUM. This allows me to write about the games after I have kept score of the games on score sheets. I can then even put pictures of the star players in my articles about the game.
Final Word
The bottom line is to have fun! Set the tournament up any way that you find will give you the enjoyment you desire out of these wonderful cards. Sometimes it is so involving that I swear that these cards almost have a heart beat all their own. I can literally "see" players that I have never even seen play, making unbelievable catches, making a timely hit, or pitching an outstanding game. What other hobby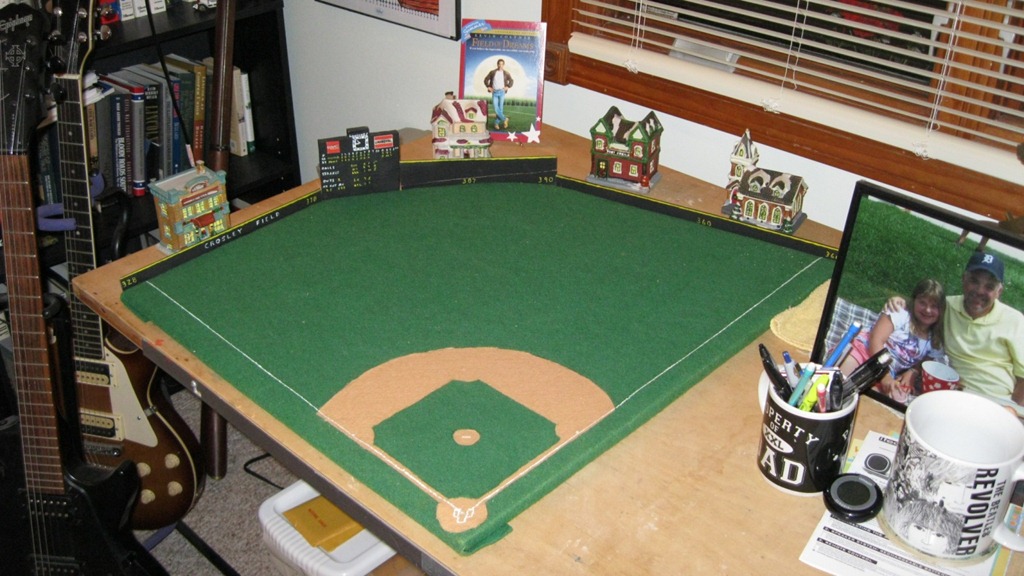 makes the past come alive like this? To help with the ambiance and mood of playing my games, I have also built myself a model of Crosley Field to use when I roll the dice. I built it to scale and included the outfield wall and the famous scoreboard in left centerfield. This has helped in bringing an enhanced sense of realism to my play. You can see pictures of that ballpark in a previous article I wrote for this blog.
Mixed with our own passion and creativity this may be almost as good as being at a real ballpark!
So let's be young again and let baseball fever wash right over us. Watch Field of Dreams again and pass a hot dog and my APBA cards!
Mike