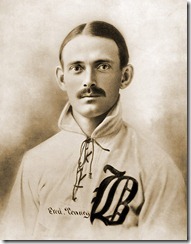 by Scott Fennessy
North Side Park, Chicago, IL 6/10/1905
The Cubs homestand continues today with the Braves playing the Cubs. Vic Willis against Jake Weimer
I had high hopes going in as Weimer was 11-1 and the Braves are not playing well at this point. The Braves showed up early for this one. Leadoff man Ed Abbaticchio singled and stole second right out of the gate. Fred Tenney (right) who is really coming on strong now doubled him home. For Fred this was his 6th of the year and I believe his 3rd in 5 games. Weimer settles in and closes the inning and it is only one run for Boston. The Cubs come right back though as Maloney walks and the hit and run is on. Johnny Evers who is starting to cool off a bit but is still hitting .306 rockets a double into the right field gap and Maloney scores. Evers takes off for third and steals his 23rd base of the season tying him with Billy Maloney. One out later he scores on Chance's sac fly and the lead is 2-1 Cubs. Both pitchers get into a rhythm and the score is still the same when Art Hofman starts a rally with a leadoff single. He scores on a one out single up the middle by Joe Tinker. Tinker has his average up to .231 from a meager .203 just three weeks ago. Frank Schulte slices a single to left scoring Tinker and Wildfire now has a 4 game hit streak.
The inning ends 4-2 Cubs, and I felt the game was going to stay in control. Weimer had retired 9 straight hitters and suddenly with one out Tenney gets his second hit of the game and moves to third on a hit and run single by Manager Pat Moran. Jim Delahanty walks to load the bases and "Cozy" Dolan makes him pay. He singles to left and two runs score. The returning Tom Needham, who has been the best hitter this year prior to the injury proves why when he crushes a fastball for a three run homer, his first of the year and his second straight game with an extra base hit since coming back. Lundgren finishes the inning but the Braves lead 6-4. There was no further scoring until the bottom of the 8th when Schulte who gets his third hit of the day and is now up to .298 moves to second on a misplay by Dolan and scores on Kling's single. Johnny is now at a 7 game hit streak and the Cubs look poised for a comeback. Unfortunately that was the end of the scoring as Willis strikes out 3 of the final 5 hitters and the Braves win 6-5.
For the Braves this was the game they needed and may have some momentum with Tenney and Needham. If they can tread water until Wolverton's return next week they may make a run towards the middle of the pack. Vic Willis pitched so so but did get his 4th win of the year. For Chicago the bullpen was outstanding in relief. Briggs who had gotten rocked badly in his previous appearance did allow two hits but no runs today in his one inning. Wicker also gave up two hits in two innings of scoreless relief and Lundgren retired both hitters he faced. The Cubs are tied with the Giants in the loss column, but two ahead in the win column, but the Giants still have to play Pittsburgh later today.