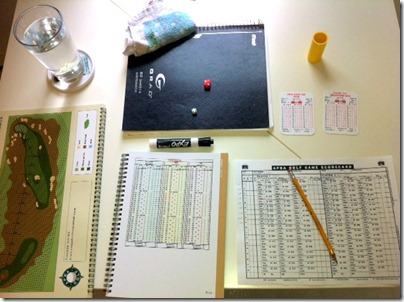 by Craig Small
I'm now half-way through the opening round of my tournament. I've spent 8 hours of my weekend playing golf and it's time for a break. The opening round will wrap up next weekend. Here's a quick update on what's been going on.
Match 2: Tiger Woods vs. Lee Trevino
No surprises here. Woods easily distanced himself from Trevino off the tees and was hitting wedges into the greens while Trevino was forced to hit irons (and sometimes woods). A great example occurred on #5 where Woods drove the ball 350 yards off the tee and hit a pitching wedge onto the green. Trevino followed his driver with a 3-wood. Incredibly Trevino's 3-wood was a masterpiece and he left himself with a 2-footer which he knocked in to win the hole. That was the highlight of Trevino's day, though, as he consistently missed makeable putts and cost himself any chance of cutting into Woods' early lead. Woods was 3-up after 3 and despite a couple of hiccups, never really looked back.

Winner: Woods 4 and 3
Match 3: Ben Hogan vs. Billy Casper
Hogan used his iron play to jump ahead early. Like Woods, he was 3-up after 3 and used a methodical approach to stay ahead. Nothing spectacular to report in this one.

Winner: Hogan 3 and 2
Match 4: Sam Snead vs. Seve Ballesteros
Easily the best played match of the tournament thus far. Both men drove the ball well but Snead took control of the match with his iron play. Seve put himself in a few bad situations with erratic iron-play but he showed his legendary ability to get up and down repeatedly. I lost count of how many times he hit the pin coming out of the rough or green-side bunkers. Unfortunately for Seve, after hitting the pin his ball would roll a little too far from the hole, leaving Seve with difficult putts. Meanwhile, for Snead it was tee-fairway-green all day long. Snead really showed his mettle on the par-3s, hitting it close while Seve was forced to make great shots out of the sand. Seve would get up and down, but while he was doing that Snead was dropping in 8-footers for birdie.
Winner: Snead 3 and 2
So far the opening match featured the only upset with Bobby Locke handing Jack Nicklaus a stunning loss but there's lots more to come . I'm really looking forward to the Player/Watson, Palmer/Sarazen, and Jones/Nelson matches as I strongly believe they could go either way. I doubt if Hagen will have much trouble with Faldo but after the first match I'm not counting my chickens.
See you next weekend!