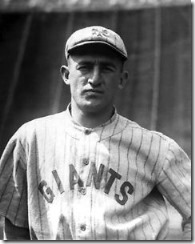 by Scott Fennessy
The senior circuit was pretty much dominated the Giants. The Reds were a solid team and the Pirates were respectable, but the lower division was awful.
New York Giants (81-59)
The Giants were a loaded team and filled the leaderboards with their roster. The catching duo of Frank Snyder (.384 7 HR) and .383 11 HR) was like having one superstar catcher. George Kelly hit .329 with 28 homers and drove home a NL record 150 RBI. Johnny Rawlings hit .314, Frankie Frisch hit .343, and his 66 stolen bases was more than any three AL teams combined.
Dan Bancroft finished at .378 and 90 RBI. Emil Meusel had a great year at .342 with 9 HR and 92 RBI. Ross Young hit .338, and George Burns hit .365.
The pitching was just as overpowering. Jesse Barns won 18 games, Art Nehf won 17, and swing man John Benton went 15-4 with 4 saves, but Fred Toney was the man that you put on the hill when you needed the win, going 23-2.
Cincinnati Reds (80-59)
The red legs had a fine season but just did not have the firepower to keep up with the Giants this year. Neither catcher could stay healthy, but Ivey Wingo hit .289 and Eugene Hargrave hit .322 when in the lineup.
Jake Daubert had a great year hitting .367, and Sammy Bohne, one of the few to stay healthy all year hit .307with 18 SB. Edd Roush set the new NL record with a .407 average and stole 18 bases. He finished second in the MVP voting mostly due to his more mortal power numbers (39 XBH).
Pat Duncan hit .336 despite missing the final 3 weeks of the season and Ray Bressler hit .319 subbing for the other players.
Dolf Luque was the ace of the staff, going 18-8 with a 2.77 ERA. Eppa Rixey won 17, and Rube Marquard won 21 and had a 2.96 ERA. Pete Donohue won 7 games and had a 1.63 RA in limited work.
Pittsburgh Pirates (77-53)
The bucs had a good year. With a blend of good pitching and hitting, and a team faster than most they did about what could be expected. Catcher Walter Schmidt hit .308; Charlie Grimm had 19 triples and a .290 average. George Cutshaw was having a great year before a monster injury ended his season just after the mid-season point. He finished with a .363 average and 16 steals.
Rabbit Maranville hit .299 and had 40 steals and Max Carey hit .331 with 12 HR and 25 SB. Dave Robertson had a fine season off the bench hitting .356. George Whitted was not a starter, but found a way into the lineup almost every day and hit .294.
Wilbur Cooper had a solid year, going 19-3 and picked up an extra inning save. He proved to be an asset at the plate too, hitting .326. Whitey Glazner went 19-7 with a 2.96 ERA and Earl Hamilton went 10-10 with a 2.88 ERA in a long relief position.
St. Louis Cardinals (72-68)
This is the first replay in which the cards had a winning record. MVP Rogers Hornsby hit 395 with 13 triples and 25 HR and 107 RBI while playing terrific defense at multiple positions. You can find his Monster Monday card that I submitted on this site.
What is it about NL catching tandems this year? Eddie Ainsmith hit .342 as the backup and Verne Clemmons hit .344 as the mainstay. Jack Fournier provided plenty of protection for Hornsby; hitting .365 with 13 homers and drove in 83 and had more walks than strikeouts. He also had 15 triples.
Les Mann chipped in a fine year hitting .321 with a dozen homers. Austin McHenry hit .319; Jack Smith and Clarence Meuller hit well over .300 sharing duties in the outfield.
The pitching struggled at points but Jesse Haines won 14 games with a 2.91 ERA, and Bill Pertica was a solid #1 going 18-9.
Boston Braves (72-68)
This was a club that had players that were really good, but they had several that were really bad. Hank Gowdy literally got injured every time I put him in the lineup, and exposed the glaring complaint I had about using the windows version of this game. TOO MANY INJURIES and for too much time. I know he was a J-4, but you would think he would accidentally not get injured at least once. In the rare moments he was on the field he did hit .388 though.
Horace Ford hit .298; Tony Boeckel got a couple of MVP votes, hitting .323 with 15 HR and 20 SB. Billy Southworth hit .350 with 19 SB. Roy Powell hit .304. There were plenty of opportunities for the reserves due to all the injuries and Walton Cruise (.354) and Lloyd Christenbury (.376) did well when given a chance to play.
The pitching was good, but found ways to lose games they should have won. Dana Fillingim went 17-6 and was among the leaders in several categories and got some POY consideration. Jack Scott was 12-4 with a 2.84 after being put in the rotation mid-season.
Brooklyn Dodgers (66-74)
This is probably one of the better Brooklyn teams I have replayed, which is not saying a lot, but injuries really derailed any chance they had at .500. Pete Kilduff hit .336 with 5 homers in a part time role. Jimmy Johnston was a serious MVP candidate; hitting .348 with 14 triples, 7 HR and 18 steals. He drove in 60, despite hitting in the number two spot most of the year.
Tom Griffith was having great year until he got hurt, but still hit .325 with 11 homers and 64 RBI. Henry Myers hit .295 and Zack Wheat hit .312 with 12 triples and 13 homers and 102 RBI. Sherry Smith had a bad year on the mound, but hit .318 with a couple of homers as a hitter.
Pitching was pretty weak for the Dodgers, but Burleigh Grimes was the brightest of bright spots. He went 24-6, struck out 180 hitters, had a 2.31 ERA and a 1.03 WHIP on a team that had a 4.70 ERA and beat the odds to win the POY award. Congratulations!
Chicago Cubs (61-79)
This is the only team I managed during the replay. It was a frustrating season to say the least, but they only had a few injuries, and given how bad they were performing this year it would not have changed their season.
I did not know that catcher Bill Killifer (.470 average in 134 AB) took over as manager that year after Johnny Evers was fired. Given that the other two catchers could barely hit their weight I should have started him more.
Ray Grimes had the best season, hitting .335 with 9 homers. Charlie Holocher hit .320. Max Flack hit .302. George Maisel hit .283 with 20 steals. John Kelleher (.313 4HR and John Sullivan (.358 9 HR) were solid bench players.
The pitching staff really struggled, but Grover Cleveland Alexander was a star on a horrible team. He got some POY votes as well. He was 20-3 with a 2.83 ERA and hit .395 with 3 home runs. George Tyler was 12-9 with a 2.85 ERA before the season ended abruptly with an injury. Hippo Vaughn was absolutely awful on the mound, but hit .385 with 3 homers.
Philadelphia Phillies (34-107)
As I mentioned in my AL update the Phillies tied the A's this year with the worst record in FLB history, NOT GOOD! Ed Konetchy hit .308 with 13 HR. Reserves John Monroe, Cliff Lee and Ralph Miller hit over .300. The staff was truly horrible as the team ERA was 5.68 and not one starter hit double digits in victories.