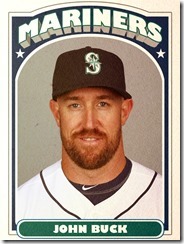 The carded player list is out for the 2014 APBA baseball season set.  This is the roster sheet that tells us what players will be represented on the APBA card set and disk for the 2014 season when it comes out. 
You can download the carded player list from APBA's download page.  Here is the direct link to the list which is in Microsoft Excel format.
The release of the carded list is a big deal for a lot of leagues including the Illowa APBA League.  For each uncarded player on our respective teams, we get a draft pick in the upcoming rookie draft.  For players like Vernon Wells and Scott Diamond (to use my Thunderchickens team as an example) who didn't play at all, they're automatic.  We know we get a rookie draft for them. 
But there are some Major League Baseball players who play just a little.  Take John Buck for example.  He played 32 games and had 89 at-bats.  Or Darin Ruf who had 52 games and 102 at-bats.  I wasn't holding much hope for Ruf being uncarded and sure enough, he did get one.  However, Buck was left off the list and I will get another draft pick because of it. 
So what goes into APBA's decision about who gets a card and who doesn't?  Just a guess on my part but this is what I think:
Overall playing time (obviously)
Size of MLB team roster
MLB team's position needs and requirements
Proximity of playing time to the end of season
Amount of time played on last team if player played on multiple teams
Overall, a player's impact to the team has to play a role too. 
Personally, I'm pleased with this year's list.  I've had the same catcher tandem of John Buck and Geovany Soto for a while now.  They both haven't been able to hit for a few years.  Last year, I drafted Yan Gomes to get myself out of this funk.  Now just magically, both Soto and Buck are eligible to be dropped for draft picks.  No more pot jokes from Chuck. 
There's nothing so nice as dropping deadweight on your team.  (but seriously guys, we loved you) *snicker*