The results are in.  Here are the final standings of the Boys of Summer APBA League.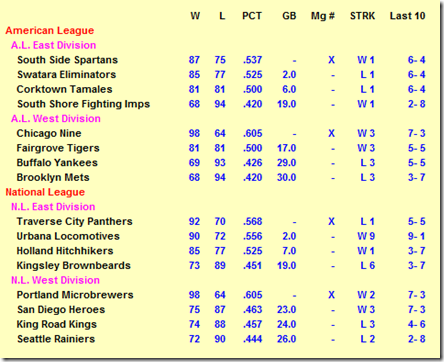 Matt Hoeppner's South Side Spartans and Stray Corrado's Chicago Nine both won their respective divisions in the American League.  Brandon Matlock easily took the wild card spot. 
In the NL, Brad Stark's Portland Microbrewers easily won the West Division by 23 games.  The East was a battle down to the last series.  Shawn Baier's Traverse City went 4-1 against Steve Ruder's Holland Hitchhikers sealing his first place finish.  It also ALMOST clinched a wild spot for my Urbana Locomotives.  I would have lose all five against the last place Kingsley Brownbeards to tie Holland. 
No fear of that.  The Locos swept Kingsley 5-0 behind shutouts by Cole Hamels and Tanner Roark.  In fact, Urbana has won the last nine games of the season to clinch a wild card spot.  Playoffs, here we come!
This is the second time we've made the BoS playoffs in its three years of existence.  We came in first place in 2013, the first year of the league.  That year, we lost to Portland in the NLCS. 
A quick recap on how we got to this point.  It certainly wasn't our hitting though we had our bright points.  I'd have to say our pitching kept us in it. 
Starting pitching
Tanner Roark 15-7, 2.72 ERA, 5 SHO
Jeff Samardzija 15-11, 3.28 ERA, 247 K
David Price 16-11, 3.51 ERA, 249 K
Cole Hamels 11-15, 3.07 ERA
Mike Fiers 8-1, 2.83 ERA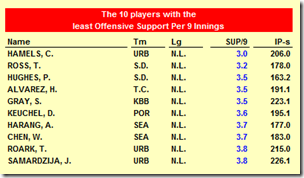 Cole Hamels was having a pretty tough year (see his Offensive Support per 9 innings, right) but got in a groove in the homestretch and won his last three starts.  Fiers was a limited pitcher so I had to use him judiciously.  He won 8 starts in a row right when we needed him too during the middle of the season. 
Hitting
Adrian Beltre led the team in hitting (.276), homers (28), rbis (86) and runs (84). George Springer joined him as the only hitter with 20 plus homers with 23.   We had some downsides too.  Nick Markakis who I batted third most of the year, hit .185 though he did knock out 15 homers and drove in 61 and scored 75. Firstbaseman Garrett Jones hit just .208.
I also expected more from Josh Reddick (.179) and Yoenis Cespesdis (.184).  It was to the point where I started playing Alex Rios in the outfield instead.  Rios ended up leading the team in doubles (28). 
Bullpen
Our bullpen was led primarily by Jonathan Papelbon and Zack Britton who both got the job done.  Papelbon was the primary save guy and went 4-0 with 35 saves and a 1.52 ERA.  Britton (with the higher grade) was 3-4, 9 saves and a 3.48 ERA.  Ryan Cook as a set-up man was effective with a 2.72 ERA. 
What's next?
First of all, two non-Urbana players are worth mentioning here.   First, Clayton Kershaw of Charles Evans' King Road Kings has had a phenomenal run this season.  He went 20-3 with a 1.56 ERA with 263 strikeouts.  All season, he was in the hunt for the pitching triple crown but just barely fell short. 
Second, rookie Jose Abreu of Chris DeMercurio's Corktown Tomales just missed the hitting Triple Crown.  He led the AL in hitting (.306) and rbis (104) but fell one homerun short (41) to David Ortiz. 
Rumor has it that the Locomotives will be playing Shawn Baier's Traverse City Panthers in the NLDS.  This will be our third matchup in the last four series.  They have a tough team, no doubt.  The good news is that BBW's AIM ratings are dialed back to the default so maybe I can bring back Mike Fiers. 
Let's go Locos!