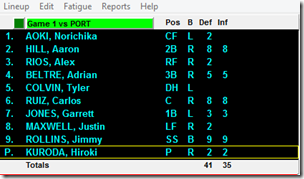 The Boys of Summer National League Championship Series now moves from the cornfields of Urbana to the left coast of Portland, home of the Microbrewers.  After being defeated by the Microbrewers in two straight one-run games, the Urbana Locomotives have some catch-up work to do in the seven game series. 
As reported, matters were made more difficult for the Locomotives with injuries to Nick Markakis and Adrian Beltre in Game 2.  After resting during the traveling day though, Beltre got a clean bill of health from the Locos trainer.  Urbana's biggest offensive star is ready to play. 
Rightfielder Markakis wasn't so lucky.  After slamming into the outfield wall chasing a fly ball, it looks like he'll be out for the rest of the season.  That would include the World Series if the team gets that far. 
Like we have all year, we're keeping it simple.  Here is the announced lineup for the three-game set in Portland. 
Nori Aoki CF
Aaron Hill 2B
Alex Rios RF
Adrian Beltre 3B
Tyler Colvin DH
Carlos Ruiz C
Garrett Jones 1B
Justin Maxwell LF
Jimmy Rollins SS
With Nick Markakis' injury, we're moving Alex Rios over to right.  Rios' 36 Arm will do the most good over there.  He also moves up to Markakis' #3 spot in the lineup.  Justin Maxwell will come off the bench and play left.  While Maxwell is no Nick Markakis, he was good enough to get some playing time this year so he has some experience with the Locos.  This year, J-Max batted only .220 but hit 10 homers in 296 at-bats. 
21-game winner Hiroki Kuroda will start off the away series in Portland.  We'll be trying our luck with Jeremy Hellickson (8-14) in Game 4 while coming back with David Price in Game 5. 
A note about Nick Markakis… he's one of few players who is on both the Urbana Locomotives and the Twin City Thunderchickens, my team in the Illowa APBA League. 
Markakis doesn't hit .330 or hit 35 homers or steal 30 bases.  He does all of those things in pretty good moderation.  He'll hit for a decent average and he'll hit for some power.  However, he's also the kind of player that does all the little things right.  He's fast, he's a great fielder with a good arm.  He also doesn't strike out much either.  And in most years (this current year excepted), he plays pretty much every day.  That's why Markakis gets to play for my teams.
***
In related news, Aaron Hill and Adrian Beltre were recipients of the BoS Gold Glove Awards which were handed out late last week.  Shawn Baier has the scoop on the BoS league website.