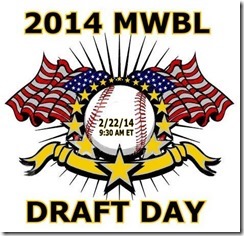 Keep an eye tomorrow (Feb. 22) for Stray Corrado's Mid-West Baseball League draft.  It will be online and you can watch the progress at the MWBL draft page. 
Stray tells me that the draft runs pretty smoothly.  Using their own written web-based software, they will record the draft online.  Starting at 9:46am and ending at 6:46pm, the league will pick 336 players.  That's two minutes for each pick with a 1/2 hour for lunch.  Stray says his wife acts as Draft Coordinator and "keeps us all in line with draft times".  
I've known this for a while but the MWBL is a pretty serious league with managers who really know their baseball.  They're not just picking big leaguers but picking uncarded players as well.  You have to be on top of the baseball scene to be in the MWBL.  Stray says that reaching down into college and high school is common.  One rule though… uncarded picks have to make it to the majors by 2017. 
Good luck to all the managers in the Mid-West Baseball League.  May your draft go as well as your season!