So what did you all get during the APBA Company's Black Friday Sale?  Tom Zuppa has a running thread on Facebook with quite a lot of responses already.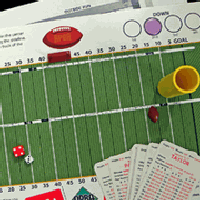 Me?  I was with family over the holiday.  While my wife and daughter were shopping at the brick-and-mortar stores, I simply used my phone to place an order for the only purchase I made Friday.  Geoff Giordano will be happy to hear that I took the plunge and ordered the APBA Football Game. 
For now, I just ordered the Football Game.  It does come with four teams (2013 Denver, Seattle, Florida State and Auburn).  That should be enough to give it a test ride.  If I enjoy it, I expect to be placing an order for some past teams ranging from the late 60s to the mid 80s. 
Time for me to re-watch Geoff's unpackaging video of the game on YouTube again. 
Did anyone else take advantage of the 25% discount on Friday??