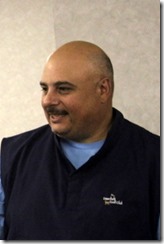 My Thunderchickens were THIS close to making the playoffs in the Illowa APBA League.  Had they done so, it would have been a great story.  But this cinderella story will have to wait to be written for another year.  Todd Ventresca and his Three Rivers Gamblers had one more trick up his sleeve. 
It's actually a pretty good story in of itself.  The three remaining contenders for the last playoff spot really pulled it together for their last series of the year.  The three teams had a combined record of 22-5.  But in the end, it was Todd's 8-1 series against the Chicago Highlanders that put them in the postseason.  They ended up with an 85-77 record for the regular season.  My Thunderchickens' 8-1 series against the Bamm Beanos put me at 83-79 and in 5th place while Mike Bunch's Green Rock Bombers 6-3 series against the Molly Putts Marauders gave them an even 81-81 record good for 6th place. 
Congratulations to Todd and his Gamblers!  Good luck to him, too!  He'll have a tough row to hoe facing Marcus Bunch and his 102-60 Moline Upperdeckers in the first round of the IAL playoffs. 
Realistically, I had no business in the playoffs.  Starting out 18-30, I was fortunate to put some hot streaks later in the season but really, this year's team didn't play like they belonged in the playoffs. 
With the playoffs out of the picture, I'll now turn my focus to next year.  It's not much of a consolation but the only silver lining of my loss is that I'll get to draft one spot higher in the coming year's rookie draft.  I would trade it back in a heartbeat but who knows, that one spot might make a difference. 
Again, congratulations to Todd!!