Many of the APBA Baseball leagues have already conducted their 2013 drafts.  Not me league.  The Illowa APBA League is having ours very late this year.  No fear, the IAL postseason/draft weekend is soon approaching.  We plan to meet up in the first weekend of April in Downers Grove, Illinois.   We really do tend to pack it for the first of our three yearly get-togethers.  Not only do the four playoff teams battle it out till none are standing, we have our league meeting and draft.  To top it off, we play 30 games of the season.  To be sure, we don't a whole lot of sleep for the weekend. 

I should say a formal welcome to new IAL manager John Heneghan.  John has been a friend of the Illowa APBA League for a couple years now and can now say he owns his own team in the league.  I enjoy John's appreciation of baseball history as he is quite knowledgeable of our favorite pastime.  Welcome John!
We've been discussing the outcome of league drafts lately on The APBA Blog.   It seems every league does it differently so it's hard to compare apples and oranges sometimes.  Ours is a rookie draft but that's a bit of a misnomer.  A few years back, we declared players under a certain limit (125 at-bats for players and 21 games or 50 innings) are not eligible for the draft (in other words, they can retire). Players already on a league team who are under these limits are eligible to be dropped for a draft pick as well. 
Case in point, Mike Trout.  Many of you in leagues already have him in your league.  Not the IAL… he's eligible for our draft and will most likely go very high.   He didn't hit the 125 at-bat ceiling in 2011 so he had to wait an extra year.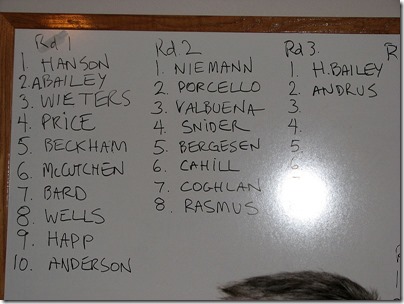 Our 2010 draft:  Funny how I always seem to have the first pick
As to our method of drafting, our ten-team league uses a simple, reverse order draft.   Last to first and start back up with the last place team again. 
Note:  back when we had eight teams and four playoff spots, we have used (successfully, I think) a method which went 5,6,7,8, 4,3,2,1.  At the time, we felt that order gave the bottom division more incentive to win so they would be situated for the draft.  I have to admit, it was interesting to watch two races; one for the playoffs and the other for the first pick.  We've abandoned that idea when we expanded to ten teams.
A couple more points on our draft that may be unique:
-draft order can be affected by penalty points which can be accrued by lateness or overuse of players
-if a team returns all their players above the eligibility limit, the team can drop one player of their choice and receive a first round pick
-a manager may keep an non-eligible card on their roster instead of taking a draft pick for him (welcome back, Stephen Strasburg!)
I have five picks to play with in the coming draft though none of them are in the first round (see penalty points above :( ).  I do have most positions covered and only need a decent outfielder and some good arms who can pitch some innings for me. 
April 5th can't come fast enough.