by Scott Fennessy
Boston, MA 7/21/1905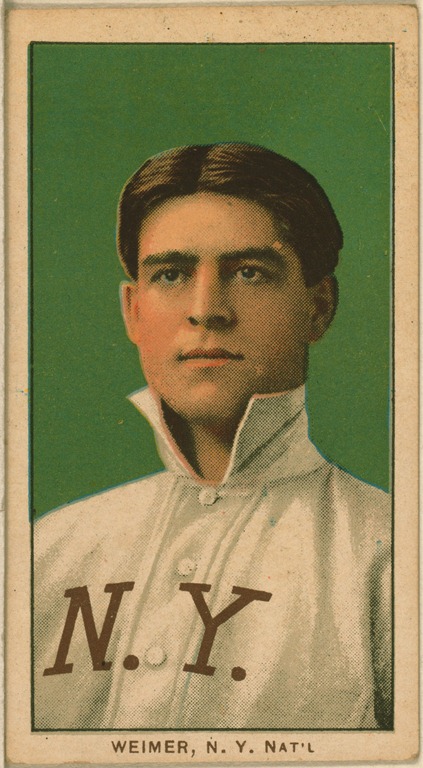 The Cubs play the Braves in 3 of this 4 game series.
Jake Weimer and Irv Young meet up in a battle of two of the NL's elite pitchers. They last faced each other early in the year and Weimer came out on top in a very close game. I expect more of the same today.
The hot handed Johnny Evers gets a one out double to right, but Young shuts the door and no runs score. Weimer looks much stronger today allowing a two out walk and gets an easy out to end the first. Both pitchers get perfect second innings with Weimer striking out the final two in overpowering fashion. This sets the tone as both of these fine hurlers match each other pitch for pitch. Neither team gets another hit until Johnny Kling gets a hit with two gone in the 5th that ends Young's streak of 12 straight batters retire, but Joe Tinker pops out to Pat Moran to end the inning. Meanwhile Jake is a bit wild, but looking as dominating as before he went on the DL and despite walking an unusually high 4 hitters has a no hitter going into the 5th.
The game was still scoreless as we enter the 8th when Tinker gets the deadly leadoff walk. Jake's having a good year at the plate and Frank Chance sends the runner. Weimer hits a gork that lands just outside the infield dirt past second base and squirts into center. Tinker slides safely into third and Weimer is onboard with a single. Billy Maloney battles Young and after fouling a few off and hits one to deep center field. Pat "Cozy" Dolan settles under it and makes the catch. The throw in won't be in time and shortstop Ed Abbaticchio cuts it off to keep Weimer from advancing. Young stays tough and gets the next two hitters and ends the inning 1-0 Cubs. Weimer still has his no hitter going until Fred Tenney slips one under Evers glove with two out in the 8th. This is usually where most of my no hitters end, but since we are only a month removed from Jake's first career no hitter I am both sad and happy as this is still a masterful performance by the tornado. Tenney is off with the first pitch, Bill Lauterborn swings through and Kling is up and fires over to Evers at second and Tenney is OUT. Inning over. We go into the 9th with a 1-0 Cub lead.
Young gets another perfect inning in the ninth, and it's all up to Jake at this point. This could be huge as the Giants battled the Cardinals just an hour ago and pulled one out in 14 innings. Tough break for Chirs Egan as he pitched well for being a C rated starter against the mighty G-Men. But back to our game in progress. Lauterborn is down with ease, and Jim Delahanty hits one that Frank Schulte boots and Delahanty is on with the error. Tom Needham forces Weimer to use his full arsenal, but eventually he fans and it is now up to Dolan to try and tie the game. He hits a curveball hard, but Jim Casey over at third has it on one hop, fires a bullet over to Chance at first, and he is OUT. Cubs win this nail bitter 1-0. BIG WIN. Tough break for Irv Young who seems to always come up short in close ones.
I am now eagerly looking to the series finale as Herb Briggs tries to get the bruins the sweep as they are now starting to gain on the Giants bit by bit.
Giants 53 18 .746
Cubs 50 23 .685
Pirates 44 28 .611