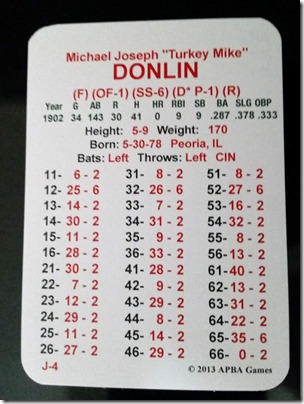 "Turkey Mike" Donlin is becoming a Thanksgiving tradition here at the APBA Blog.  This time it's his 1902 card coming from Scott Fennessy which also qualifies as a Weird Wednesday card. 
Donlin's positions make him strange to start with.  The Cincinnati Red is a fast outfielder who also plays shortstop and is rated as a D pitcher.   In actuality, he only played one game each as a shortstop and pitcher 1902. 
However as Scott notes, it's his second column that puts him in the Weird category.  He has a total of thirty-two 2s in the second.  With a 66-0, he has sixes at 12, 32, 52 and 65 and the rest are deuces.  In addition, Mike Donlin also has an 11-6. 
One more oddity I just noticed… Donlin's 1902 card lists his birthplace as Peoria, Illinois, just down the road.  His 1905 card shows it as Erie, Pennsylvania though.  Baseball Reference has it down as Peoria so I'm going with that. 
Thanks Scott and Happy Thanksgiving everyone!!