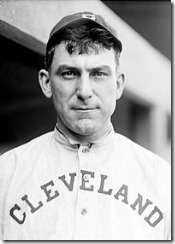 by Scott Fennessy
New York, NY
10/10/1905
Here we are. After 1 year and 5 months of games we have reached the big stage. Game one is going to be an interesting battle as Indians workhorse Addie Joss (33-14) who pitched 453.1 innings goes for the Tribe in game one against Christy Mathewson (37-8) who racked up 417.1 of his own innings. Both pitchers won the Pitcher Of The Year honors. The Giants also have MVP Mike Donlin and the Indians counter with Harry Bay and Napoleon Lajoie who finished 2nd and 3rd for the batting title.
This one was everything thought it would be. Two great hurlers who shut down the offense as neither team had scored after six innings. In fact, the Indians had only managed 3 hits, two of them doubles by Cotton Turner and Jay Clarke and for the Giants only one hit, a two out triple by George Browne in the 4th inning.
The Indians get their chance in the 7th inning as Bill Dahlen boots a grounder by George Stovall. Stovall had moved to second with one out when Bill Bradley, who after coming back from another of his endless string of DL trips hit the ball hard the last two weeks of the season rips a double to deep right field that scores Stovall for the first run of the day. Given Joss' performance today this could be enough. Mathewson stops the rally cold, but the inning ends 1-0 Indians.
Cleveland gets another run in the 8th as Lajoie hits a single up the box and calls for the hit and run. Elmer Flick, who had a down year, but still was 7th in the AL in slugging percentage and 8th in doubles. He hits one deep down the left field line and this one hits high off the wall. Sam Mertes plays the ball well, but Flick pulls into second with a stand up double and Lajoie scores an insurance run.
That was enough for Joss as he continued his domination over the final two innings. The Indians win a nail biter 2-0. Joss allowed just two hits. Mathewson looked good too, but the tribe managed enough hits to pick up the big victory.
Around the horn: An interesting note regarding Jay Clarke of the Indians. Once after he had just gotten married asked Lajoie for a day off to be with the new bride and Lajoie said no. So he goes to warm up Joss for the start of the game and puts his finger up so that the pitch breaks his finger. As he walks to the dugout with his hand bleeding badly he asks "can I go home now?" The two never did well together again.