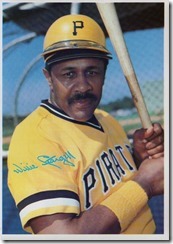 Bob's thrilling account of his 1979 postseason continues with Game Four of the NLCS.  -Tom
In Three Rivers again, where the Astros hope to build on yesterday's 11-4 win and knot the series up. Bill Virdon goes with JR Richard (Grade AXYZ). Chuck Tanner elects to start Jim Bibby (Grade C(B*)YZ ) instead of game 1 winner Bert Blyleven (CG 2 hit shutout, fanning 11). When questioned about this, Chuck said he wanted to save Bert for Game 5 – and have the Candy Man to start the World Series. Or more optimistically, have Bert start Games 1,4 and 7 of the series with Candelaria drawing games 2 and 5. (Any major league teams looking for a forward thinking manager like that can contact me through the comments section of the blog. Just leave your phone number.)
Tanner looks like a genius after Denny Walling flies to Parker in right. But then….Leonard, who moved to the 2 slot with the injury to Reynolds, draws a base on balls. Cedeno beat out a grounder to Madlock for an infield hit and the Astros are in business with 2 on and 1 out. Up steps Cruz who was 5-5 yesterday and is 7 for his last 8. Cruz doesn't disappoint the Houston fans; he singles to over Foli's head to plate Leonard, Cedeno stops at second. Cabell drills Bibby's next offering to the gap in left center. Moreno gets it back to the infield, but it's a 2 run double and a 3 run Houston lead. Landestoy grounds out to Garner – Cabell holding second. Art Howe gets the start at second today. He's glad not to see Blyleven – Bert whiffed him 3 times in as many at bats in Game 1. Howe celebrates by singling past Garner and driving in Cabell for a 4-0 lead. Bibby retires Ashby (Garner to Foli for the force) and the Pirates ponder how to come back against Richard. They managed 1 ER and 5 hits off him in Game 1. Richard posted a league low WHIP of 0.82. Moreno gets them started with a liner to left. He takes off for second on the first pitch and is in with his third steal of the series. Tim Foli drills one to almost the same spot that Cabell hit his double in left center. The Bucs pick up a run and have a chance for more. But Richard has other ideas. He fans Parker, then Stargell. Bill Robinson grounds weakly to Howe and we move to the second, Astros leading 4-1. Walling grounds a single to left center with one out, and is stranded there.
The Bucs second starts with Madlock reaching on an Art Howe error. Ed Ott grounds a double play ball to Landestoy – playing short for the injured Reynolds. This one skips off Rafael's glove and in to left field – first and third for the Buccos, no out. Garner lifts a fly to short center field. Walling makes the catch and holds the runners. Bibby is overmatched by Richard and fans on 3 pitches. Now Moreno with 2 gone. He finds one he likes and its hit to deep left. Back goes Cruz, back, track, wall, leaping ….gone! Moreno hits a three run homer off of Richard – all the runs are unearned. Omar not known for his power – he hit 9 dingers all year. Foli sends another drive to deep left center and it is off the wall. Tim has his second double in as many at bats. Parker grounds to Cabell at third and he makes the throw to stop the bleeding. But we are tied at 4 after 2.
It's Jose Cruz again. Six straight hits, but Bibby knows how to put an end to that streak. He walks him on four pitches. Not sure that was Tanner's plan…. Cabell moves him to second with a ground ball to Madlock. Landestoy fans and Art Howe digs in. Art knocks a line drive safely in to right field and the Astros regain the lead 5-4. Ashby grounds to Madlock to end the inning. Richards retires the Bucs in order (did I mention his 0.82 WHIP?) in the 3rd. Leonard walks with 2 gone in the 4th – and gets picked off. Ed Ott leads off the Pirate 4th with a solid single to right. Garner fans and Bibby is due up. Tanner figures he has 4 quality relievers in his bullpen (grade B), so why not pinch hit for Bibby and turn the game over to the pen? Lee Lacy gets a swinging bunt down the third base line and Omar Moreno is coming to the plate again. Omar is 2-2, 2 runs scored, a steal and a 3 run homer. Line drive to second, Howe leaping, over his head. Base hit Moreno. Ott races home and Lacy goes to third. Moreno is off for second on the first pitch to Foli. The throw is not in time. Steal number 4 of the series and second of the game for Omar. He finished second in steals with 79 to Bill North of the Giants who swiped 89. Two on, one out for Foli who has doubled twice. This time, Richards gets him. Foli's foul ball is caught by Cedeno who whirls and throws home in time to nail Lacy.
Dave Roberts (Grade D(B*)Z) on for the Bucs. He walks Cedeno and Jose Cruz is up again. He's been on base 7 straight times. This time, he grounds back to the box. Roberts gets the next two Astros on infield outs. Pirate 5th…Stargell drills a single to right and Bill Robinson 0-2 on the day steps in. He whacks a soft liner down the right field line. Stargell makes the turn and heads for third (yikes). Safe! Robinson is off on the third pitch to Madlock and steals second easily. Richards comes back to fan Madlock and will face Ed Ott again. Ed reached on an error and singled – scoring both times. This time he lines one just past Cedeno at first. Stargell scores, Robinson heads for home and is in safely. Pirates lead 7-5 after Ott's 2 run single. Garner grounds to short to end the inning. Roberts retires Houston in order in the 6th. He faced 7, retiring 6 in a row after the lead off walk. Richards gives up a two out single to Foli in the home half of the 6th, but that's it. It is the Bucs' 11thhit off Richard, though.
Left hander Grant Jackson (B*) comes on and makes it 9 Astros retired in a row. Buc 7thand Stargell to lead off. He's struck out twice, singled and scored. Richard's heater finds the sweet spot on Willie's bat and it is Chicken on the Hill time!! For you folks who didn't listen to Bob Prince a lot, Stargell just hit his third homer of the series to make it 8-5. Bill Robinson hits one to deep right center. Walling back – and it's off the wall. Robinson has a double and Richards is gone. He yielded 13 hits in just 6 innings! JR just didn't have it today. Bo Roberge (Grade B*W) enters and gets Madlock to ground to Howe, Robinson taking third. Ed Ott singles under Landestoy's glove at short for his 3rd straight hit and 3rdRBI of the game. He turns for second and Cruz' throw is waiting for him Landestoy makes the tag. Garner fans to end the inning. Pirates in front, 9-5.
Jackson starts the Houston 8th. He gets Cruz to ground to 2nd for the first out. That's 10 straight Astro batters without a base runner. Chuck Tanner call on Enrique Romo (Grade B*XZ) to face the right handed hitting Cabell. Cabell still manages a ringing double to right center and this one ain't over yet. Landestoy pops to Madlock and Howe grounds to Garner at second and the Pirates can smell victory. Randy Niemann (Grade DZ) comes on for Virdon and retires the side in order in the Buc 8th. Tekulve comes out in the 9th in a non save situation to try and nail this one down. Kent was 3-0, with 48 saves and a 1.32 ERA on the season. He gives up a meaningless single to Denny Walling with 2 out and ends it by fanning Leonard. Roberts gets the win and Richards the loss – his second of the series. The Bucs are going to the World Series. They await the winner of the Twins- Orioles match up.
I debated the NLCS series MVP. Ed Ott had a good game four and hit .417 for the series. He scored twice and knocked in three (all off of Richards in Game 4). Omar Moreno seemed to always get the Bucs rolling. He hit .500, scored 7 runs, knocked in 5 (4 in Game 4), stole 4 bases and had a double and homer. Eventually, Willie Stargell was the unanimous selection. (OK the vote was 1-0, but that is still unanimous.) Willie hit .353 and knocked in 6. He scored four runs, had a double and three home runs. Thoughts from anyone?