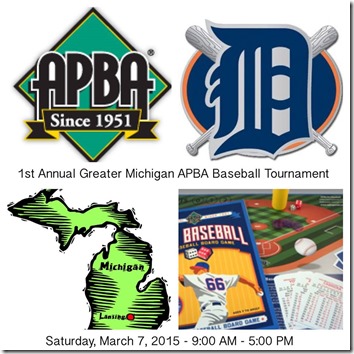 According to Rich Zawadzki, registration is closed and the divisions are now official for the 1st Annual Greater Michigan APBA Baseball Basic Tournament.  The tourney will take place on March 7th in Jackson, Michigan. 
Here's his announcement:
 

WE HAVE 32 TEAMS SELECTED FOR THE 1ST ANNUAL GREATER MICHIGAN APBA BASEBALL TOURNAMENT!

It's going to be a fun day (Saturday, March 7, 2015) of enjoying the game that many of us have loved since we were children with others who share that love.

The format will be…

8 divisions (Each named after well respected players throughout the eras) of 4 teams, playing 6 round robin games against 3 divisional opponents (3 home – 3 away).

Then the Elite Eight division winners will be seeded play down (1 game playoffs) to the…

Final Four

Terrific Two

Hail to Chief (Champion)

The 32 teams (and managers) are as follows…

Cy Young Bracket (16 Teams)

Honus Wagner Division

1. 1962 San Francisco Giants
(Wendell Watkins)

2. 1954 New York Giants
(Ron Emch)

3. 1917 Chicago White Sox
(Shawn Baier)

4. 1968 Detroit Tigers
(Steve Steinhardt)

Lou Gehrig Division

1. 1990 Cincinnati Reds
(Chris Short)

2. 1985 St. Louis Cardinals
(Robert Mosher)

3. 1998 Atlanta Braves
(Allen Shock)

4. 1906 Chicago Cubs
(Mark Hanisch)

Stan Musial Division

1. 1962 Los Angeles Dodgers
(David Watkins)

2. 2006 Minnesota Twins
(Eric Berg)

3. 1976 Philadelphia Phillies
(Ian Kabel)

4. 2006 Detroit Tigers
(Christopher Baier)

Sandy Koufax Division

1. 1970 Minnesota Twins
(Ken Schulz)

2. 1998 New York Yankees
(G.F. Korreck)

3. 1977 Chicago White Sox
(Greg Tews)

4. 1915 Boston Red Sox
(Jeremy Kelley)

The Cal Ripken Bracket (16 Teams)

Nolan Ryan Division

1. 1927 New York Yankees
(Brian Wells)

2. 2011 Detroit Tigers
(Jack Beckman)

3. 1961 Detroit Tigers
(Bill Lilley)

4. 1969 Baltimore Orioles
(Charles William Modzinski)

Tony Gwynn Division

1. 1902 Pittsburg Pirates
(Aaron Radlinski)

2. 1988 Oakland A's
(Bob McCurdy)

3. 1984 Detroit Tigers
(Thomas Tucholski)

4. 1931 Philadelphia A's
(Pastor Rich Zawadzki)

Greg Maddux Division

1. 1981 Los Angeles Dodgers
(Dave Palladini)

2. 1953 Brooklyn Dodgers
(Doug Schuylerhuyler)

3. 1934 Detroit Tigers
(Randy Egan)

4. 2009 St. Louis Cardinals
(Darren Schulz)

Mariano Rivera Division

1. 1937 New York Yankees
(John Roels)

2. 2014 Washington Nationals
(Tucker McBride)

3. 1908 Detroit Tigers
(Richard Butler)

4. 1980 Cleveland Indians
(Mel Wegman)
Thirty-two teams!  That's an amazing turnout!  All the credit for that lays squarely on Pastor Rich who has been pushing this for the last few months. 
Sadly, I won't be there.  Seeing this roster of formidable APBA managers makes me wish I was.  There are some really good people participating and a few I would have liked to have met in person for the first time. 
I'm counting on all of you going to give us all a detailed account including roll-by-roll commentary. 
It's too late to register for this tournament but if you want to follow along, you can join the event on Facebook. 
Good luck everyone!!