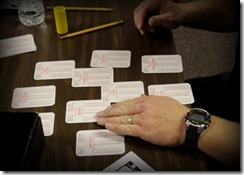 by Scott Fennessy
I was reading one of Tom's Monster Monday articles lately and although I had probably not given it much thought he would take a player with an 11-5, 33-6, 66-1 and read it as 1-5-6. Where I grew up and learned the game it was 5-6-1. I have been on the APBA site and seen several variations on players who have 4 or more "power numbers."
So I started reading other articles and blog sites from various APBA players and realized that just like if you travel to certain parts of the country the accent or phrases for everyday life vary, so does the lingo in APBA.
The person who taught me the game was from the Detroit area, so Shawn will have to let us all know if any of this was "local speak" or not. So some of the things we called things were if you hit a 0, it was "extra bases." Never mind that there are tons of 11's 7's and even some 8's in the dead ball era cards, but I still use the phrase to this day.
We referred to any of the numbers such as 11, 22, 33, etc. as the "double numbers"; and single column cards were "power hitters" despite the number of weak hitters who got single column cards, especially J-4 pitchers. When any pitcher had an X or XY we called them "power pitchers."
I eventually began to be a solo player only. I rarely play heads up any more due to my current obligations. I have started to say when a B pitcher gets a hitter out with an 8 result that he "fooled him" or if it's a pitcher with a known specialty pitch he used that to get the hitter out. When a pitcher gets a 9 that ends up with a strikeout he "overpowered him" and when a player has only 1 way to hit a home run and gets it I call it a "lottery roll"  And of course any roll that brought out a 37, 41, etc. was a "chart number", because we usually had to go to the charts to find out what just happened.
So I am curious to know if there are any readers across the country that have noticed any "local slang" when it comes to the great game of APBA baseball?