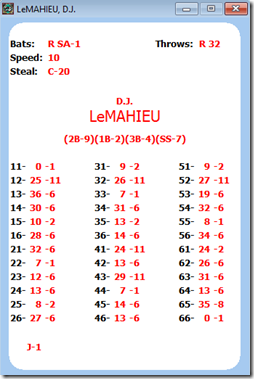 Saturday was quite a day baseball-wise.  Last night was the University of Illinois annual Hot Stove Banquet which is always one the highlights of my winter.  It was especially exciting since Dodgers star Steve Garvey was the keynote speaker. 
Earlier in the morning though, my Urbana Locomotives were facing off against Shawn Baiers' Traverse City Panthers in the Boys of Summer National League Division Series finale.  It was an away game but Shawn and I decided to play via join.me so we could both play on his computer.  It was Cole Hamels struggling all year till the last month when he got red hot against the Panthers' Julio Teheran. 
And whatta game.
Hamels really didn't give the Panthers much of a chance.  He was spot-on for the whole game.  The Locos scored first on a Markakis sac fly.  DJ LeMahieu added some insurance with a 2-run homerun.  That homerun was one of four hits of the game for DJ. 
Hamels ended up giving up just five hits for the game, pitching a 4-0 shutout.  The Locomotives win the NLDS and will advance to the NLCS and will face Brad Stark's Portland Microbrewers for the right to compete in the World Series. 
Urbana management has deliberated over this and have decided to give co-MVP awards for the NLDS.  DJ LeMahieu went 10 for 23 with six rbis.  His triple in Game 4 won it for Urbana and his homerun in Game 6 gave them the insurance they needed. 
Cole Hamels went 2-0 allowing just three runs in 16 innings.  His shutout in Game 6 clinched the series for the Locos.  Both LeMahieu and Hamels will be adding some hardware to their respective mantles.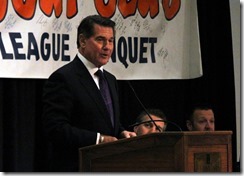 Last night, Garvey spoke a lot about his past as a batboy for the Dodgers, a player for the Michigan State Spartans and the Los Angeles Dodgers.  Throughout the speech, he emphasized what it took to find success both on the field and off.  He thought that it was little things that mattered even on the ballfield.  "Teams that live and die by the three-run homerun will most likely not succeed", he said.  
It was then when I thought about my Locos.  Why?  Some may look at my choice of players from my roster and turn a cynical eye.  The hitter with the best average on my roster (in real life) is sitting on the bench.  The outfielder with the most homeruns (again, real life) rides the bench.  Delmon Young hit .301 in real life.  His APBA card has a 55-7.  That said, he is  slow OF-1.  Yoenis Cespedes hit 22 homeruns in 2014.  That's more than any other outfielder on my team.  He is fast and a OF-2 and his card has power numbers 1-0-0-0. 
Neither player started on my playoff lineup as an outfielder or DH.  Who started ahead of them? 
Nick Markakis (0-0-0-7-7)
Nori Aoki (0-0-7-7-11)
Alex Rios (0-0-0-7-11)
Josh Reddick (1-3-6-7)
George Springer (1-1-6-10, four 14s, 42)
These guys aren't superstars to be sure.  But they get on base, move runners along, can play the field, and do the little things that win games.  More importantly, they are the outfielders who I've played WHEN I've won. 
Call me crazy but I'm not changing my strategy against Portland.  I do carry three weak-hitting catchers so Young and Cepesdes will most likely get into the game as a pinch hitter when times get tough. 
Get ready Brad.  We're going win, Garvey-style.