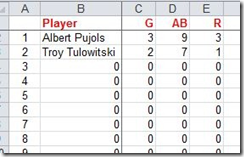 Over at the Illowa APBA League's web site, I uploaded an Excel spreadsheet which can be used to keep team's stats throughout a season.
I debated whether there would be interest in it over here at the APBA Blog.  Walt Taylor however, thinks it will be very useful for his team at OAPBA.  So I'll link to it in case anyone else is interested in a useful way to keep stats for a league team or a replay.
Some info about the spreadsheet
First, I claim no credit for creating this.  It's a collaborative effort.  A lot of the work goes John Brandeberry, a manager in the IAL.  The master sheet was created by our commish, Mike Bunch.
I've used various forms of this spreadsheet to keep stats for my Twin City Thunderchickens for some five or six years, now.  This is the latest iteration.  I love it.  It is both efficient and customizable.  It has a worksheet for each player and pitcher.  On each player worksheet, stats are entered game-by-game.  Updated season totals are reflected on the master sheet.
For those leagues who impose limits on games, at-bats and innings for players, this spreadsheet has an added feature which is quite handy.  On the master sheet (labeled TEAM NAME), there is a place to put real life stats of your players.  Then for the rest of the season, your "limits left" (including players' AB/G and IP/G) will be automatically updated for you.  As Walt notes, this would be handy for replays too.
I've entered in a few games of stats for a couple players and a pitchers so you get a feel how the whole thing works.
No doubt, you might want to make changes to it.  The spreadsheet it certainly customizable for your league's (or replay's) stat categories.
You can download the Excel spreadsheet from the IAL website.
I hope some of you find this useful.