by Craig Small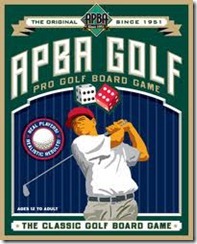 Hello there. Welcome to the first of many installments of Small-Time Golf. Regular readers of the APBA Blog may recognize me from my recent posts dealing with my All-Time Greats Golf Tournament. Tom was kind enough to let me share my tournament with you and recently expanded on his kindness by offering me my own column on the APBA Blog. I, of course, jumped at the chance. My goal is to bring a little bit of APBA Golf to this predominately baseball-centric blog.
I started playing APBA Golf a few months ago. I dipped my toes in by using the basic rules and as I became better at the game I've added more and more of the master rules to bring a little more realism to my rounds. I now use the basic rules as well as the lie charts, the aiming rules, and the work-the-ball rules. I don't incorporate course conditions or wind because in my fantasy world every day is a beautiful summer day with perfect fairways and greens.
A couple of weeks ago I completed my first tournament. I picked 8 of the greatest golfers of all time for my field with Jack Nicklaus defeating Tiger Woods in the dream final match-up. The tournament was so much fun that I decided to have another and doubled the size of the field. Tom allowed me to take a vote on the APBA Blog and voters overwhelmingly chose match play scoring. It will be a single elimination, 4 round tournament. The first round of 8 matches will be played at Badger Links. The second round will he held at Empire Golf Club, the semi-final at Magnolia. Because the first tournament was played on the Metro D.C. course, I decide it will be tradition For Metro D.C. to host the final. Here are my first round match-ups based on decidedly unscientific seeding.
1. Jack Nicklaus
16. Bobby Locke
2. Tiger Woods
15. Lee Trevino
3. Ben Hogan
14. Billy Casper
4. Sam Snead
13. Seve Ballesteros
5. Walter Hagen
12. Nick Faldo
6. Gary Player
11. Tom Watson
7. Arnold Palmer
10. Gene Sarazen
8. Bobby Jones
9 Byron Nelson
I just finished the first match about a half hour ago. I added Bobby Locke to the field at the last minute after reading a bit about him on the Internet. Though I'd never heard of him, apparently he's considered by some to be the greatest putter that ever lived and it's whispered that he was banned from the PGA Tour for being too good. The official reason for banning him was that he backed out of a few commitments but it's said that the real reason was that the American golfers were none to happy to have a foreigner dominating the standings and taking home a huge chunk of the prize money. In those days (late 1940s) there wasn't nearly the prize money they have today.
The Nicklaus / Locke match began with Locke showing his stuff with the putter. He drained a 14 footer on the 1st and a stunning 31-footer on the 3rd to go 2-up after 3. He birdied the 4th to go 3-up but Nicklaus was undaunted and birdied the 6th and 9th to be 1-down after 9. Locke putted his way to birdies on the 10th and 14th to finish 3-up after 14. Instead of folding under the pressure, Nicklaus showed his championship form and birdied 15, 16, and rolled in a 20 footer to birdie 17. All-square after 17! I nearly fell out of my chair when that 20 footer dropped into the cup. What a match. Both players hit beautiful tee shots on 18. Nicklaus split the fairway with a 270-yard 3-wood, Locke with a 250-yard driver. Locke hit an incredible 3-wood on to the green 22 feet from the cup. Nicklaus chose this time to hit his worst shot of the day, a 2-iron into the deep rough. Locke left his putt 4 feet short while Nicklaus hit a beautiful wedge out of the rough to within 11 feet of the pin. With everything on the line Nicklaus missed his putt leaving Locke with a 4-footer for the win. The genius putter calmly knocked it in and the #1 seed, defending champion was eliminated in the opening round. I was left reeling. After one match, everything has changed. I have no idea what to expect and wouldn't dare make any predictions. With the talent in this field anything can happen. I hope you'll join me and follow along as I post the results.
More to follow.
Craig
(ed. welcome aboard, Craig and thanks for the great recap!  -Tom)