I'm in the middle of migrating my APBA-related photos to my SmugMug photo gallery and ran across these photos from the 2002 National APBA Convention.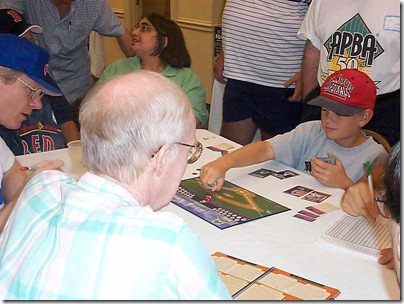 Ten years ago, I went to a national APBA Convention in Lancaster, Pennsylvania.  It was 2002 and that was when young Brian Wells, at age nine, won the convention tournament using the 2000 Arizona Diamondbacks.  Perhaps that gave us old guys some hope for the younger generation.  Indeed, there was hope for Brian.  He came back six years later in 2008 to win the tournament again.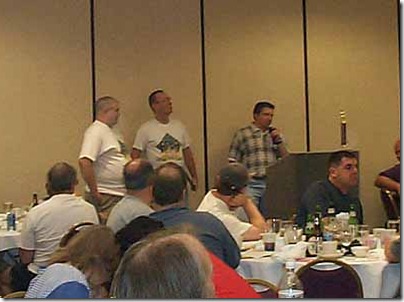 That year, I remember having the privilege of meeting Veryl Lincoln, Skeet Carr and Marc Rinaldi (above L to R) .  All very nice guys.  I know I've probably told this story before but this was during the time when the APBA Company was toying with the APBA Baseball board game engine before they released the new 66 boards and Skeet was getting feedback from people.  He asked me, "What would you think if APBA made a "1" a double instead of a homerun on the hit-and-run?".  I remember not liking the idea at the time (baseball people are ALWAYS against change).
However, he asked my opinion and I appreciated that.  When it happened, it wasn't a surprise to any of us.   And in retrospect, the hit-and-run boards are a real improvement.  Not just the change on the 1 but the automatic stolen base with the 11 on a result 13 was changed and that was an improvement.
But I digress.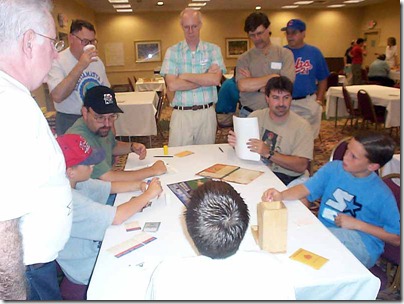 As for my success in the 2002 tournament, there wasn't much.  I had the 1965 Braves and Eric Naftaly took care of me pretty well with Willie McCovey's '59 Giants.  There was no one I would rather lose to than Eric though.  He was a gracious winner.
You can see more photos from the 2002 APBA convention here.  Many thanks to my buddy Brando who made that trip with me.  During the the road trip, we attended three minor league baseball games (Indianapolis Indians, Harrisburg Senators and Reading Phillies) plus a Pirates-Reds game at PNC Park (great stadium!) in Pittsburgh.  That was a journey I'll never forget.
I also attended a convention years earlier with my friend Don Smith.  That was the year APBA finagled a scout from the New York Mets to come speak at the event.  I really couldn't tell you what year it was.  I do remember staying in college dorm rooms.  I wish I had brought my camera then so I  would have photos to show you.  Another reason:  Don and I saw some things while playing late night APBA on the Amtrak on the way back that were quite interesting (Immodest young women are not a current trend and let's leave it at that, eh Don?).