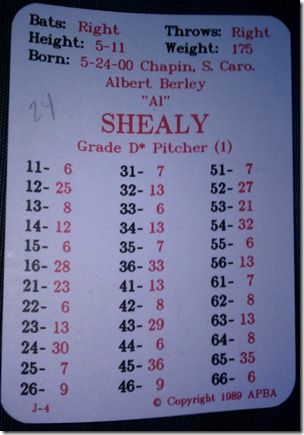 Relief Pitchers always seem to have the best Monster Cards.  Case in point, Al Shealy of the 1930 Chicago Cubs.  While you could make the argument that there are always going to be a few lucky pitchers who get a few hits that translate into a great APBA card, sometimes you wonder if it's more than that.  Shealy, who was only in the majors for two years, hit fairly well in both (albeit in sample sizes). 
As a spot starter with the Yankees in 1928, Shealy (left) collected nine hits including a homerun and a double in 43 plate appearances.  He also walked three times.  His .237 batting average wasn't too bad for a hurler.  He even won 8 games for the Bronx Bombers. 
Two years later playing for the Cubs, Shealy was used exclusively as a reliever and only garnered five plate appearances.  He certainly made the most of them though going 3 for 5 with a double and a strikeout. 
Split
G
PA
AB
R
H
2B
3B
HR
RBI
SB
CS
BB
SO
BA
OBP
SLG
1930 Totals
24
5
5
2
3
1
0
0
0
0
0
0
1
.600
.600
.800
Shealy's 1930 APBA card will be devastating should any manager decide to leave him in to bat with a runner on third.  He's got seven 6s on his card.  After that, he has five 7's (through 61-7).  His 9s are at the bottom at 26 and 46 (I couldn't even tell you which one is attributed first… my guess is 26).
It's not often you see hit numbers clumped together on an APBA card. Shealy has a 25-7 and a 26-9 as well as a 61-8 and a 62-9.  Impressive. 
If I was going to picky about this card, I'd say he doesn't have enough strikeouts.  He KOed once in 5 plate appearances and received only three 13s.  But in the grand scheme of things, APBA had more important things to be concerned about when creating the '30 set. 
A final note:  Al Shealy didn't really go out in style.  He gave up a homerun to Pittsburgh Pirate Gus Suhr in the last inning of his last game in the big leagues.  After that, he hung up his spikes. 
  See other Monster Card Monday selections