Search results for 'glavine'
November 3rd, 2008 — 07:06 pm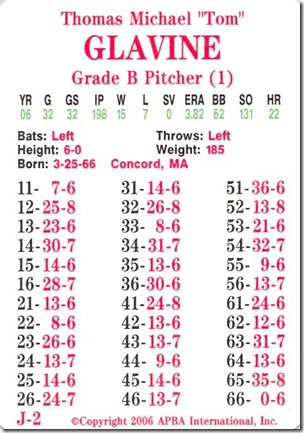 By the 2000s, Tom Glavine lost his hit numbers he had in the early 90s not to mention his "Gretzky" nickname (bestowed because he was pretty good at hockey… good enough to be picked in the fourth round in the NHL draft).  But he did picked up a couple of other goodies, though.  As of late, he's one of few pitchers who has 2 31s on his card making him a decent hit and run threat.
More importantly, in the last few years, he has managed to garner more than the one requisite 14 given to most pitchers.  In this 2006 card he got four.
On a personal note, I love Tom Glavine.  I managed to acquire Glavine in the Illowa APBA League back from Teddy Ballgame in 1991 and he's been declared untouchable since.  Glavine, who was D then was a throw-in in a deal which had me giving up Kirk Gibson (at the end of his career) and Pete Smith (who never really had a career).  I probably got another player back in the deal (I'm thinking it was Melido Perez) but looking back, it was Glavine who was the key player in the deal.
Glavine who was 25 at the time, went on to have an awesome career both in the majors and for my Twin City Thunderchickens.  He might have been ungraded once in all those years.  Gibson and Smith both retired soon after.
And I never let Teddy forget it.
December 30th, 2013 — 08:21 pm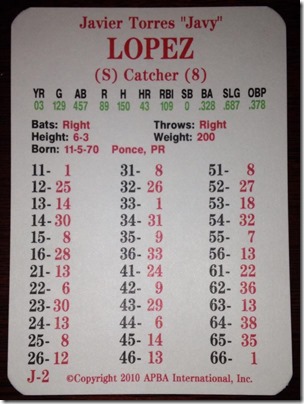 This is Javy Lopez' killer card from 2003 sent to me by Pastor Rich.  This particular card is the 2010 reprint of Lopez' 2003 season.  I remember this particular season well.  Lopez was a member of the Illowa APBA League's Northside Hitmen managed by Chuck Lucas.  With other players like Bonds, Manny Ramirez, Carlos Delgado, Roberto Alomar, Lopez' career year in 2003 was the icing on the cake.  Needless to say, this lineup definitely lived up to their team nickname. 
In the majors, Javy Lopez had always been a better than average slugging catcher but it was in 2003 when he really poured it on and stepped it up a notch.  That year, he hit 43 homers in just 495 plate appearances.  Exactly half of his hits were for extra bases (75 of 150).  Javy hit for average too with a nifty .328 mark.
| Split | G | GS | PA | AB | R | H | 2B | 3B | HR | RBI | SB | BB | SO | BA | OBP | SLG |
| --- | --- | --- | --- | --- | --- | --- | --- | --- | --- | --- | --- | --- | --- | --- | --- | --- |
| 2003 Totals | 129 | 117 | 495 | 457 | 89 | 150 | 29 | 3 | 43 | 109 | 0 | 33 | 90 | .328 | .378 | .687 |
This card is fantastic especially if you happen to have a runner on third when you can exploit APBA quirks.  Lopez has power numbers 1-1-1-6-6.  As it works out statistically, Lopez hit 3.13 HR/36 PA so it about works out.  Depending on how often he comes up with the bases full, he might even get his three triples, too. 
As mentioned before, Lopez hit a pretty decent .328 for 2003.  On his card, he has another 7 plus four 8s (including two "across the top") and two 9s.  Javy only has two 14s but he does have a 22 due to being plunked a four times in '03. 
Fun numbers:  33-1, 44-6, 55-7
Javy Lopez trivia: For his career, Lopez played 1352 games in the field.  He played 1351 behind the plate and just one game at first base. 
There's no question that 2003 was Javy Lopez' career year.  He hit his career high in homeruns, batting average, rbis, even doubles.  That's not to say he didn't have some solid lifetime stats. For his career, he hit 260 homers with 864 rbis while batting .287.  Not only that, he caught some of the best pitchers of his era including Greg Maddux, John Smoltz and Tom Glavine. 
Thanks Pastor Rich (and congrats on your brand new baby girl!).
March 2nd, 2013 — 08:19 am

Brian Hey emailed The APBA Blog to update us on The APBA Patriot League.  Most notably, they have a new website!
I was just having fun going through their career leaders.  Like in our league, Maddux is the all-time leader in wins.  Happy to see Mr Glavine 2nd, too! 
Great job, guys!
The details on The APBA Patriot League:
| | |
| --- | --- |
| League Name | APBA Patriot League |
| League Website | http://www.apbapatriotleague.com |
| Contact Person | Brian Hey |
| Sport | Baseball |
| # of teams | 12 |
| Year of inception | 1971 |
| Basic/Master/Computer/ Combination | Computer |
| Geographic location | USA |
Brian says: 
NL only league that started in 1971 with the basic board game plus modifications. In 2005, the league voted to use BBW and has been using the latest version ever since. The league has a unique bidding system for players undrafted in the first round. Statistics are maintained on the website.

Renny Maddox, a current manager and former commissioner, has been playing in this league for the last 42 years!!!
Thanks, Brian and congrats Renny for such a long-standing run as manager! 
If you want to brag about your league, we're listening!  Tell us all about the league you are in and we'll post a profile about it.  In the meantime, read about other leagues who have written in.
February 23rd, 2013 — 07:52 am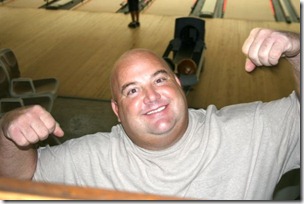 For this APBA Fan Profile, I had the pleasure to get to know Dan Velderrain of the Southern California Baseball League.  I'm glad I did and it makes me wish I could meet him in person (that really goes for pretty much everyone I've interviewed.  The fan profile is one of my favorite parts of doing this blog).  When I announced his upcoming interview on the APBA Blog Facebook page, it was met with quite a favorable response.  "Sgt Dan" is held in high esteem it seems and I can see why.
Dan initially contacted me a while back to put up SCBL's league profile up on the APBA Blog.  Recently though, we got chatting on Facebook about APBA leagues and found that our two leagues were quite similar in age and structure.  The kicker was when we found out that he and I both had Tom Glavine on our respective teams for his career.  The ties that bind!
By the way, for Dan's fan profile, I'm trying something new.  In addition to some of the normal questions, I've asked him some 'rapid fire' ones.  Quick questions with short answers and if we're lucky, maybe not a thought put into them.  :-)
The APBA Blog:  Hi Dan, tell us about who you are when you're not playing APBA.
Dan Velderrain:  Hello Tom and Thank You for offering me this interview opportunity. I enjoy reading this feature on The APBA Blog and now it really is an honor to actually know that I will be a part of it as well.
I am 47 years old and live in Southern California… in Orange County to be more specific. I am married to my wife, Kristine for the past six years, I do have two children, Amelia who is 15 and Adam who is 12. I am employed as a Sergeant with the Orange County Sheriff's Department and have been there for more then 23 years. My outdoor hobby is golf and my indoor hobby is APBA. I have been doing playing both for more than twenty eight years. I am truly a baseball fan and can actually find something I like in ALL 30 MLB Franchises…. However if forced to pick just one team, then count me as an Angel Fan. I attend several games each year but the highlight of my baseball season is attending the All-Star Game. I have been to six of them, including the last three in a row and I am not sure if I will miss another one… They really are amazing to attend live.
TAB:  Tell us your APBA story. How did you start playing and what games do you play?
DV:  Well, in 1983, while a Junior in High School, I purchased a Street & Smith Baseball Preview. As I was reading through every page of that magazine, I noticed many Table Top Baseball Game Advertisements, including APBA, Strat-O-Matic, Pursue the Pennant, etc. If I recall correctly there were like six or seven different games out there. I actually requested information from all of them and within a few weeks I was receiving several letters as if I were being recruited by Major League Teams. After reading through them all, a few times each, APBA seemed to be the clear cut choice for me. What got me I think was how they worded it. "You can run a Major League Team." I can recall how disappointed how, in my opinion, the California Angels were under achieving. Fresh off the heals of a 1982 ALCS loss to the Milwaukee Brewers, in a series they were leading two games to none. I just knew I could get the Angels into the World Series and I was going to use the APBA Baseball Game to prove it…… However, the $30.00 price tag, the game company wanted for their game seemed just a bit high for someone who was spending all of his money trying to fix up his 1967 Volkswagen Karmann Ghia and the game just never got ordered.
I graduated high school in 1984 and enlisted with the United States Air Force. In 1985 my parents got me the APBA Baseball AND Football Games for Christmas that year…. I still count that Christmas and the years I received my Atari 2600 and my Webco BMX Bicycle as the top three best Christmas' of All~Time.
On Christmas morning 1985 I broke out the baseball game that included the 1984 season. I played the Dodgers against the Angels. In that first inning, Rod Carew singled to lead off the game and a couple of outs later, Reggie Jackson came up and rolled 66 and I have been hooked ever since. I currently own 81 complete seasons and hopefully someday will have them all.
As far as what APBA games do I play? Let's see I own the APBA Baseball Basic and Master Games, APBA Football, APBA Basketball both new and old, APBA Golf, APBA Saddle Racing and APBA Boxing….. But pretty much play the APBA Basic Baseball Game Exclusively.
Rapid Fire Questions with Sgt. Dan

Hand-roll or Dice Shaker?

Neither. I use a Dice Tower to roll my dice.

Designated Hitter or let the pitcher hit?

In APBA the Pitcher ALWAYS hits. :D

With APBA, are you superstitious? Or is it all numbers to you?

Crazy Superstitious…. To a fault.

Baseball Executive from any era you would like to have dinner with…

Hmmm Good question…. Never have given this one much thought… I guess it would have to be Walter O'Malley.

Your choice… Watch baseball on TV or a date with your wife? (careful now)

LOL Since the question is, "watch it on TV", this one is easy…. Date with my Wife EVERY time.
TAB:  The league you are in, the Southern California Baseball League, has been around for 35 years. Give us a little history on the league and what makes it so great. What is its secret for its longevity?
DV:  I know there are a lot of leagues out there and some have even been in business longer then the SCBL. But this league holds a special place in my heart. Other than my career with the Sheriff's Department the SCBL is the one thing that I have done the longest in my life. My team, the Saddleback Sharks is older than my children, been around longer then my wife…. I was a young Deputy Sheriff when I was given this franchise in 1991 and I have had it ever since.
Four friends and teammates on the Cross Country Team at Orange Coast Community College in the city of Irvine in Orange County, started the, "Runners League" in the Spring of 1977. These four young men, each managed two teams, their "A" team and their "B" team. They played a small schedule but didn't keep stats other than simply, wins and losses. In 1978 they changed the name of the league to the Long Beach APBA Baseball League, gave their A Team and B Teams actual names and started keeping stats. In 1979 the league name was changed to the Southern California Baseball League. As a result of an advertisement placed in the APBA Journal the league grew to 9 members and the SCBL was officially born and underway. League Membership has been as high as 16 although today we are currently at 15 teams.
The SCBL is a Face to Face Basic Game League with many Modifications. We play an 84 game schedule consisting of 14, six game series between March and September. I don't know if I really know what the "secret" would be…. The SCBL has always been fortunate to have had Managers who truly care about Baseball and APBA with the competitive nature and desire to run their own Major League Franchise but were a little short on the cash, Like me… So the SCBL is the next best thing!
TAB:  Give us an example of a modification or idea that the SCBL has used that might be unique to the league.
DV:  We use quite a few. I'll share two of them in regards to pitching…..
Pitchers are assigned a Hits Rating based on their hits allowed per nine innings pitched. For A pitchers who give up 6.50 hits per nine or less receive a Low or L rating. If they give up 7.50 or more hits then they receive a High or H rating. If there hits per nine fall in between 6.50 and 7.50 then they are neutral or do not receive a rating. For B pitchers the cutoffs are 7.50 and 8.50, for C pitchers the cutoffs are 8.50 and 9.50 and for D pitchers the cutoffs are 9.50 and 10.50.
The L and H ratings ONLY come into play with the Bases Empty Board. With a play result of 36, 37, 38, 39 or 40 against a neutral pitcher the result is a strike, ball or foul ball. Against a L pitcher it would be a ground out and against a H pitcher it would be a single. This way pitchers who are the same grade in APBA, yet don't give up as many hits as others in real life, get a little bit of a benefit with this modification.
Another one we recently put into place, is the addition of five new pitching grades: A&B-, A&C-, A-, B- and C-, using the Master Game Pitching Ratings. Below is a Table that we use:
Right Handed Pitcher
Left Handed Pitcher
Grade
MG Rating
Grade
MG Rating

A&B-

25,26

A&B-

25

A&C-

20,21

A&C-

20

A-

15,16

A-

15

B-

10,11

B-

10

C-

5,6

C-

5
For example, if a Right Handed A pitcher gets a 17, 18 or 19 in the Master Game then he is a True A. For the pitcher who gets a 15 or 16 he is an A-. An A- will be an A against all right handed hitters and a B to all left handed hitters and so on with all of the pitching grades except for the D.
So in our league it isn't uncommon to see a Pitcher who is an A-XZH. In a league, using only 10-16 teams on any given season we all tend to have some pretty strong pitching staffs. We have found both of these modifications even it out somewhat and produce a few more base hits without really altering the pitching grades to much.
We also use a called steal with the move to first ratings and catchers throwing arm ratings and we use individual defensive ratings as opposed to total team fielding ratings as in the basic game.
It has been nice because we have increased some of the realism of the Master Game while keeping the simplicity of the Basic Game. This blend has gone a long way in maximizing the whole APBA experience.
TAB:  Finally, if you aren't playing APBA Baseball, what do you like to do that's sports related?
DV:  When I am not working, spending time with the family, playing league games during the season and various solitaire projects in the off season, I really enjoy going to Major League Baseball Games in person and playing golf. I play about once a week and go on some type of golf trip at least once a year.
Lastly, I would just like to say thank you to you, for writing the APBA Blog and to whoever is responsible for the APBA Baseball page on Face Book. Through these outlets, I have met and became friends with several others who are crazy about this game just like me. On one hand it is probably a good thing we all live so far apart, but then again, Man what kind of league could we put together if we all lived closer??? Oh Man!!! Go Sharks!!!
Many thanks to Dan Velderrain for his time in answering these questions! 
December 29th, 2012 — 09:40 am

Steve Stein emailed me to tell me that the Transcontinental Baseball League have released the names of this year's TBL Hall of Fame induction.
It's quite a worthy class.
The Transcontinental Baseball League has announced its class of 2013.

Greg Maddux (league best 403 Wins, 5323 IP) was selected on his fist appearance on the ballot, and Frank Thomas (456 HRs, 1498 RBI), Roger Clemens (359 wins), Barry Bonds (22 yrs, league records: 826 HR, 2342 RBI, .406 OBP, 2204 BBs) and Tom Glavine (312 wins) also achieved the honor of induction.

They join the following players in the TBL Hall of Fame:

Tim Raines (2009)
Rafael Palmeiro (2009)
Mark Mcgwire (2009)
Rickey Henderson (2009)
Tony Gwynn (2009)
Barry Larkin (2009)
John Franco (2009)
David Cone (2009)
Kevin Brown (2009)
Orel Hershiser (2009)
Larry Walker (2010)
Roberto Alomar (2011)
Jeff Bagwell (2011)
Fred Mcgriff (2011)
Kevin Appier (2011)
Craig Biggio (2012)
Some of those numbers are astronomical.  Wow, 826 HR for Bonds!
Congrats to the players and each of their managers!!
December 17th, 2012 — 11:37 pm
With the APBA-Between the Lines disk chats going on, I've been looking forward to next year's season more and more.  Indeed, my Thunderchickens look to improve in the pitching department with four Bs and two Cs in the rotation and two Bs in the pen (assuming Chris Perez is one, I haven't confirmed his grade).
Hitting and defense seem to be up and down throughout the roster.  Next year, I won't be able to relish in having a SS-10 and a 2B-9 in my lineup (sigh).  But overall, we look better and this is before my draft which includes five picks.
As I look towards next season, I sent out my annual 'Let's talk trade' email to my league.  To make it easier, I listed my needs (shortstop, please!  Tulo's injury really hurt me).  I also put in what I had to offer.  I admit, that was a little harder.  In the game of negotiations, you have to give up something of value to get something of value (but I'll be damned if you're getting Stephen Strasburg).
I've re-posted the following article for a couple years now this time of year but it's still relevant especially if you are in an APBA league.  It's my Top Ten Tips for Trading in an APBA League.  It's not baseball-specific really and for that matter, there are a lot of principles that are germane to day-to-day life.
1.  Know your strengths and weaknesses.

Before the off-season, before you even think of making trade offers or consider anyone else's offer, take stock of your APBA league team.  Get a good sense of your team's strengths and be honest about your weaknesses.  If you're serious, a depth chart would be nice.

If your league imposes player limits, then definitely fill out a spreadsheet with your team's limits so you know what you need to cover positions.  This is a must.  You don't want to be scrambling post-draft trying to fill positions via trades.  When you are in a position of weakness, other managers know it.

2.  Understand your goal

Some teams are rebuilding.  Others are "going for it", thinking they have what it takes to make the playoffs, championship, whatever their particular league structure allows.

With each goal comes a totally different strategy of approaching your team drafting and trading.  That bum B starter isn't going to be much worth to you if you're rebuilding and next year, he'll be a DW.  Consider trading him for high pick.  What about that position player that had a career year?  Same thing.

And if you're a top rung team, consider trading a player with loads of potential but little short term value to a rebuilding team for a low risk short term player (see above).

3.  Know your opponent's strengths and weaknesses

Just as important as knowing your own team is knowing the other teams in your league.  In the game of trading, it doesn't help knowing your own team if you don't know who you are trading for.

At the very least, know the other teams' weak points, strong points, areas of depth and areas of need.  If one team needs a shortstop and you have three, there might be a good match for a trade.

4.  Make offers that help both teams

It might be tempting to contact a team manager and a say "What do you want for Nick Markakis?".  If I got that, I might give it a thought or two but no more.  Be more specific.  Like I said in #3, learn your opponent's team and find out what he needs.  When you come to him with a more concrete deal like "I have Nick Markakis.  Would you give me your #1 pick for him?".  He'll at least be more willing to come back to the table and talk.

5.  Leave room for negotiation

Despite what I said in #4, don't give away the farm.  No one says you have to make an offer that your trading partner will accept right off the bat.  If I made a deal that a manager snapped up without thinking about it, it would certainly make me wonder if I offered too much.

Leave some room for a little room for give and take.  Don't be afraid to be flexible either.  If he wants that B* instead of that C* out of your pen don't dismiss it out of hand.

6.  Don't burn your bridges

Everyone has ideas of that one big trade that puts one over on the other guy.  But don't go into trade discussions with that mindset.  If you get the reputation of a swindler, other managers aren't going to want to trade with you in the future.  Be a fair trader and they'll come back and more importantly, they'll have a equally fair attitude toward you.

7.  Discretion is prudent

When you get into a protracted trade discussion over a blockbuster deal, keep the deal under wraps especially if the other manager requests that you do so.  Nobody likes a tell-all who replies-to-all over email.  Some managers have needs or wants that they would prefer to keep quiet.

This is especially true when other managers confide their draft pick preferences.  For example, I wouldn't want my buddy Brando to tell the other managers in the IAL that I'm interested in picking David Price with my first pick of the draft (oops!).

8.  Get advice

Ok I know, this goes counter to # 7.  If you're in the middle of trade negotiations and ready to pull the trigger but just not quite sure, get a second opinion.  If there's another manager who's not affected by the deal and whose opinion you trust, run it by them.  Even if their opinion runs counter to your gut instinct, it's good to get their feedback.

9.  Electronic is good, Talking is better.

In the old days, we in the IAL used to run up phone bills talking trade.  Thank goodness for email.  It makes thing a whole lot easier not to mention cheaper.  I think I even made a deal via texting last year.  That said, if it's a complicated trade, the novel concept of TALKING doesn't hurt either.  It removes some of the miscommunications that can occur with email.

10.  Announce your completed trade.

When you and your trading partner finally pull the trigger on your deal, announce it to your league.  Your commissioner will need to know, of course.  The other managers will too, if they are interested in any of the player involved in the deal.

Why not have some fun with the announcement?  Sometimes, IAL managers will format their email announcement like a press release MLB-style.
I hope this helps.  It comes from being in a league for 32 years.  Joining the league at the tender age of 16, I would never have guessed that some of life's best lessons could be learned from 10 guys playing APBA.
January 4th, 2012 — 07:00 pm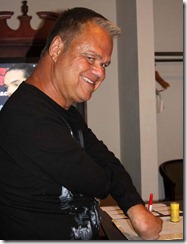 With the disk out and the cards shipping, I had this idea of writing this article on drafting in APBA Leagues .  I emailed fellow IAL manager Tedd M (aka Teddy Ballgame) and asked him for some quick draft tip suggestions.  By the next day, Teddy had practically written the article for me. 
Take Teddy's advice to heart.  He's drafted luminaries such as Greg Maddux, Tom Glavine, Jeff Bagwell, well the list goes on… 
---

1) Watch real life baseball games, in person if possible, otherwise get the MLB package & watch as many games as possible.  Look at the rookies that you're considering drafting.  You must like baseball if you're playing in a dice baseball league, so then watch & know who you're drafting.  When a friend saw Curtis Granderson's first at bat, Ryan Howard as a pinch hitter (he was stuck behind Jim Thome), and Brandon Webb pitch as a rookie versus the Reds, with excitement in his eyes he said, "Teddy Ballgame, These guys are gonna be something!"
2) There is so much data out there on rookie talent.  It wasn't always that way, but today there are experts on every corner.  Beware there is hardly any criticism when it comes to rookie talent.  Look for subtle, below the radar, comments, when reading scouting reports.  The only sure thing is these young guys will get older. 
3) Look at the stats.  Review the minor league & major league stats, as well as collegiate statistics (there will be an adjustment from aluminum to wood bats).  The stats will give you a glimpse as to the career you can expect from the rookie you're drafting.
4) How old is the rookie?  Consider age when selecting a rookie to draft.  Often times younger high school & Latino prospects are competing against collegiate athletes.  Sometimes younger players just need to grow into their bodies.
5) Check out walks & strikeouts, both for hitters and for pitchers.  This will give you an idea of whether a pitcher will have control or a hitter will have a .400 OBP.  As a rule, don't select a pitcher without at least one strikeout letter.
6) Injuries cannot be ignored.  There are many great rookie prospects that have had their careers derailed due to injuries.  Also there are young players who have dealt with injuries, who gone on to stardom once their injuries are in the past.
7) Take into consideration whether the minor league stats were produced in a hitters friendly or pitchers friendly park and/or league.
8) Don't ignore the gun, speed kills, and the best pitch is still a well located fastball with movement.
9) Don't ignore the obvious.  Many times there's a proven youngster who gets bypassed because you know in your gut this other rookie will be great.  Taking the proven commodity will pay off more often than not.
10) When all else fails, draft an Aries, my birthday is April 14th, same birthday as Pete Rose & Greg Maddux.  Also Taurus pitchers seem to do quite well.  Whatever you do, avoid Pisces pitchers like the plague.
---
Thanks, Teddy!  Your advice is golden! 
November 3rd, 2011 — 06:21 pm
As I mentioned last week, I sent in my ballot for the Illowa APBA League Hall of Fame.  League VP Rob Moore announced the ballot results in the comments but I thought I'd give them their due here.
The members of the IAL Hall of Fame class of 2011 are:
You can click on each one to get to their bio, accomplishments and stats.  Their 'plaque', if you will.  Congrats to all four and the managers who had the pleasure of managing them.  Here is the complete list of Hall of Famers now inducted in the IAL.
Tedd Mallasch and I were talking about the inductees afterwards and he brought up an interesting point.  Both Maddux and Glavine were drafted as D pitchers in their respective rookie drafts.
Drafting D pitchers as rookies may be more common in larger leagues with a larger drafting pool but in the 10-team IAL, it's pretty rare.  Tedd did a poll among our managers to see when they last drafted one.  A few names came up.  John Smoltz, Sean Burnett, my last goes all the way back to the failed Scott Scudder experiment (remember him? probably not.).
Kudos to Mallasch, who by the way, drafted both Maddux and Glavine.  Both obviously went on to have fine careers in our league.  Not everyone gets so lucky (or drafts so well).
Who out there has drafted a D pitcher as a rookie and then see him go on to make good on his manager's gamble?  For that matter, anyone take a chance on a prospect with a less than mediocre card and have a great league career for you?
October 22nd, 2011 — 10:05 am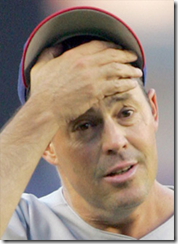 Maddux:  You're voting for me?
It's Hall of Fame time at the Illowa APBA League.  I'm finally getting around to filling out my ballot for the 2011 IAL inductee class.
As I mentioned before, this is a year with some talented players especially among the pitchers.
The pitchers on this year's ballot with their IAL stats:
| Pitcher | G | GS | CG | ShO | W-L | Sv | IP | BB | K | ERA |
| --- | --- | --- | --- | --- | --- | --- | --- | --- | --- | --- |
| Tom Glavine | 713 | 582 | 148 | 36 | 247-202 | 11 | 4231 2/3 | 1512 | 2797 | 4.15 |
| Greg Maddux | 749 | 749 | 193 | 63 | 354-232 | 0 | 5086 1/3 | 1271 | 3925 | 3.59 |
| Pedro Martinez | 452 | 376 | 76 | 16 | 200-130 | 7 | 2740 | 952 | 2767 | 3.72 |
| Mike Mussina | 525 | 499 | 93 | 17 | 204-180 | 0 | 3428 2/3 | 1097 | 2870 | 4.18 |
…and the hitters
| Name | H | R | RBI | 2b | 3b | HR | SB | AVG/OBA/SLG |
| --- | --- | --- | --- | --- | --- | --- | --- | --- |
| Barry Larkin | 2064 | 1269 | 961 | 395 | 82 | 199 | 376 | .277/.347/.433 |
| Carlos Delgado | 1712 | 1287 | 1174 | 449 | 11 | 466 | 4 | .257/.356/.538 |
| Ray Durham | 1390 | 850 | 623 | 310 | 63 | 144 | 293 | .253/.327/.411 |
| Jim Edmonds | 1469 | 947 | 1002 | 338 | 31 | 320 | 42 | .273/.362/.526 |
| Luis Gonzalez | 1714 | 1050 | 989 | 441 | 46 | 244 | 85 | .259/.336/.450 |
| M. Grudzielanek | 1325 | 628 | 565 | 306 | 23 | 65 | 101 | .262/.301/.372 |
| Frank Thomas | 2112 | 1368 | 1431 | 461 | 20 | 475 | 19 | .279/.392/.534 |
The emails flying among the IAL managers around the HOF issue have been interesting.  They've centered around couple issues.  One, how does one feel about "first ballot Hall of Fame voting?  Do managers take that into consideration when they vote?
There's also the standard "they're all on steroids" talk.  Meh.
Well, I'm voting on players whether they belong or not, first ballot or not.  In the tradition of sport journalism, I'm publishing my open ballot.
If I could give Greg Maddux three votes I would.  He's the IAL career leader in wins plus a couple other categories.  Sixty-three shutouts.  Wow!  That's enough for me.
Tom Glavine gets a vote.  That's a given.  For seventeen years, he's been my one-up on my nemesis Tedd M who traded him to me as a throw-in back in 1993.  Since then, he's won over 200 games and struck out over 2500 batters.
I feel like I'm giving away prizes at kindergarten (everybody wins!) but  I can't ignore Frank Thomas' 1368 runs and 1431 rbis.  That combination is rare even in the Hall of Fame.
Barry Larkin was the best of his generation at his position (save perhaps Ozzie Smith).  His relative power (199 HR) and speed (376 SB) to go with his fielding merits recognition.  Give him a vote.
The big question is what to do with Pedro Martinez and Mike Mussina.  I've been thinking about this for a bit. I just gave our all-time leaderboards a check.  Didn't help.  Martinez is a Koufax-type who didn't pitch as much but boy, when he did, he pitched great.  In roughly 1500 innings less, he had as many strikeouts as Glavine.
Give it to them both.  Mussina and Martinez.  Both of them for winning 200.
My ballot:
Maddux
Glavine
Thomas
Larkin
Mussina
Martinez
Delgado is just going to have to lobby harder this coming year.